Bizarre Video Shows Man Biting iPhone and Causing Battery Explosion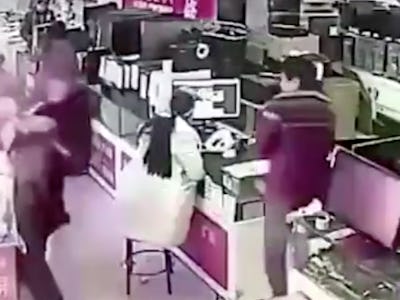 Top Life 2020/YouTUbe
That's something you don't see everyday. A man in a Chinese store has been spotted on CCTV biting into an iPhone replacement battery last Friday, in an apparent bid to test the authenticity of the product. The action caused the product to suddenly explode over the counter.
"The battery is not gold, why are you biting it?" one Chinese commenter said in response to the video, as reported by Taiwan News on Tuesday.
In the 10-second video, a man visits a store to purchase a replacement battery for his iPhone. Many Chinese stores contain counterfeit goods, and buyers need to be cautious that what they're getting is the real deal. Unfortunately, the man seemingly decided to use his teeth to test the authenticity, causing an explosion in close range. Fortunately, reports claim that nobody was injured in the incident despite the number of people in the vicinity.
The video was shared on Chinese streaming site Miaopai.com on Saturday, where it received over 4.4 million views.
Watch the bizarre footage below:
Apple's iPhone batteries have come under the spotlight recently after it emerged that older batteries caused phones to slow down. With the release of iOS software version 10.2.1 in 2016, the company started reducing the running speed of processors in select phones, expanding this feature out the following year to cover newer devices.
The revelation caused Apple to rethink its approach in the face of consumer backlash. The company reasoned that causing older phones to run at full speed led to unexpected shutdowns. A future software update will give users the choice of whether to prioritize speed or device stability.
"We're going to give people the visibility of the health of their battery, so it's very, very transparent," CEO Tim Cook said in an interview last week. "This hasn't been done before, but we've thought through this whole thing and learned everything we can learn from it."
If you do decide to replace your iPhone battery to boost the speed, just don't do what this guy did.