Noel Gallagher Comments on Teaching a 'Star Wars' Lightsaber School
Plus, why he hates Porgs.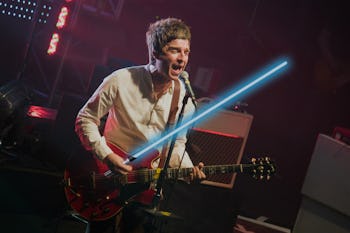 http://alterna2.com/
Will the British rock star, Noel Gallagher formerly of Oasis, open up his own lightsaber training academy? According to Star Wars.com, the answer is: "Not yet, we are working on it though!"
On Monday, StarWars.com published an interview with singer-songwriter Noel Gallagher about his love of all things in a galaxy far, far away. The former Oasis guitarist and band-leader took the opportunity to declare his dislike of Porgs, and take credit for training Ewan McGregor in the finer points of lightsaber combat.
"You've always got to have a lightsaber in the house in case of burglaries," Gallagher told StarWars.com dryly, and then repeated one story, often to be considered an urban legend. Did he and Ewan McGregor really fight with toy lightsabers prior to McGregor filming Star Wars: Episode I — The Phantom Menace?
"So there was a party round at my house in the '90s and Ewan came, and he'd just got the part for Star Wars, and I was like, "No way!" I happened to have two lightsabers in the house, so I said, "Right then, in the back garden and show us your skills." For what it's worth, McGregor has confirmed this story on many occasions. McGregor's has also said that the rock star "didn't go easy on me."
Gallagher told StarWars.com that he hasn't trained anyone since McGregor, but also unsurprisingly declared his dislike for Porgs, despite admitting to being a huge Star Wars fan. "I've seen them on the adverts and I already want to kill them!" To be fair, StarWars.com admits that this interview took place before Gallagher saw The Last Jedi, but based on his track-record of smack talk, it seems likely that opinion remains unchanged.
From 1993 to 2009, along with his brother Liam, Noel Gallagher wrote the vast majority of the songs for the mega-popular Britpop band Oasis. After years of conflict, the band split up permanently in 2009, though the brothers are thought to be on speaking terms as of late 2017.
In 2016, Mat Whitecross, the director of an Oasis documentary, Supersonic, told Inverse that the phenomenon of the Gallaghers' band probably couldn't happen in the 21st century, only because the way people access music now is so different. It's also possible that the strong, opinionated personalities of the Gallagher brothers wouldn't play well in the highly curated, image-centric entertainment culture that exists today. After all, the Porgs aren't really the only creatures Noel Gallagher has insulted over the years.
Gallagher would totally play music in the Star Wars galaxy too. He says if he had to go on tour through those planets, he knows exactly where he'd want to play.
"It'd be the cantina, wouldn't it," he said. "Or what about the one in The Force Awakens owned by the lady with the big eyes? I'd do a residency there, but like I am now in actuality… and I'd be the weirdest looking person in there! I'd also do a private party at Jabba's palace if the bitcoinage was right."
Star Wars: The Last Jedi is out in wide release now. Noel Gallagher's High Flying Birds latest album, Who Built the Moon is also out now.