Ursula K. Le Guin 1929-2018: A Beacon of Hope for All Writers
More than just a science fiction writer.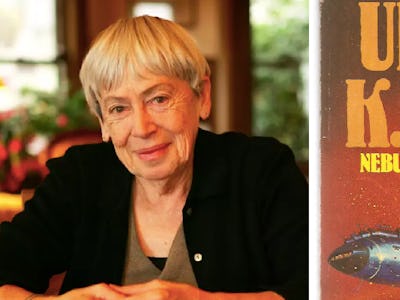 On Wednesday, the family of Ursula K. Le Guin announced the beloved author had died in her home in Portland, Oregon. What Le Guin leaves behind is obviously a legacy of feminist trailblazing in the genre of science fiction. She was science fiction's Virginia Woolf and her books contain multitudes.
There are some writers you'll find yourself quoting for often than others. With these favorites, you'll build your own sense of confirmation bias into your feelings for that writer and start to see the world through their eyes. With some writers this can be dangerous, but not so with Ursula K. Le Guin. If you quote Le Guin, think like Le Guin or act like Le Guin, the world will be better for it. Which is why her influence will survive past her death. Le Guin was a writer's writer in a way that feels closer to alchemy than anything else. If you're a writer of any kind, you probably feel a void right now, even if you've never heard of Le Guin. She's that important.
One could write about her groundbreaking gender-bending sci-fi novel The Left Hand of Darkness for several of Le Guin's lifetimes and never fully be able to explain the genius. But, beyond her limitless imagination, it's in her understanding of the life of a writer where she'll be so well remembered. In her 1988 essay "The Fisherman's Daughter," Le Guin comments on the ways in which women writers have helped one another throughout history. "…there is a heroic aspect to the practice of art; it is lonely, risky, merciless work, and every artist needs some kind of moral support or sense of solidarity and validation."
Le Guin was part of what is conventionally referred to as the "New Wave" of American science fiction writers in the 60s and 70s, writers more concerned with the words they were using, than perhaps the sci-fi ideas themselves. "I don't think science fiction writers merely play with scientific or other ideas," Le Guin wrote in the 1973 anthology Those Who Can. "I think if they're doing their job, they get very involved with [those ideas.] They take them personally, which is precisely what scientists must forbid themselves to do."
With other writers, Le Guin was exceedingly generous. Speaking to The Paris Review in 2013, she described the camaraderie of the SF writers' world like this: "One nice thing about science fiction—I think it's still true, it certainly was when I came into the field—was that we could steal from one another quite freely, not in the plagiarizing sense, but in the ideas and how-to-do-something sense. What I always compare it to is baroque composers, who used to pass their ideas around all the time, even pass tunes around."
Though she never met him in high school, Le Guin did attend the same school at the same time as Philip K. Dick. Later, she would generously praise Dick as "an elusive and incomparable artist…our own homegrown Borges."
But perhaps it's Le Guin's her generosity with herself that writers for centuries to come will find so inspiring. In a stunt of writerly wisdom and pseudo time-travel, Le Guin reprinted one version of an essay she wrote in 1976 — "Is Gender Necessary?" — as "Is Gender Necessary? Redux* in 1987. Alongside the original text, the older Le Guin glides along, gently correcting her younger self through the passage of time.
It's a beautiful reminder that even works of art are alive, and changing. As Le Guin put it, "It is rather in the feminist mode to let one's changes of mind, and the processes of change, stand in evidence — and perhaps remind people that minds that don't change are like clams that don't open."