Go to the Star Wars Island in Ireland, But Watch Your Step
Watch out for the Skelling Michael puffins!!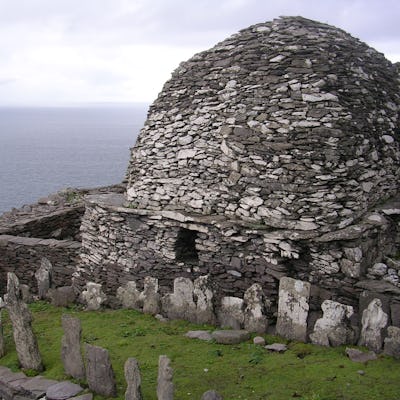 Wikimedia Commons
Skellig Michael, the rocky island off the coast of Ireland, has become a news-worthy attraction since it was featured in The Last Jedi, and a must-visit destination for any Star Wars fan. It's the setting for the anonymous island on the planet Ahch-To, where Luke Skywalker lives in solitude.
Here on planet Earth, it's a World Heritage Site and contains remains of a Gaelic Christian monastery, built between sixth and eighth century, located off the coast of County Kerry in the Atlantic Ocean.
Skellig Michael is also home to a lot of threatened Atlantic Puffins, the adorable black and orange creatures that were so prolific during the shooting, it was easier to digitally transform them into Porgs instead of editing them out of shots.
Atlantic Puffins, digitally turned into Porgs for The Last Jedi
How to Visit Skellig Michael
Dicey meteorological conditions mean the island is only open to visitors from May through October, weather permitting. But that hasn't stopped Star Wars fans worldwide from booking a boat trip from one of three mainland ports (Portmagee, Bunavalla Pier and Ballinskelligs Pier) to be one with the force.
Only certain boating companies are permitted to the island, and you can check out the full list on heritageireland.ie.
Visitation to the island has increased since 2016, due in large part to marketing pushes by Fáilte Ireland, the National Tourism Development Authority, who created a Star Wars-related itinerary and Tourism Ireland, who tapped Mark Hamill for a promotional video.
Due to a limited number of visitors allowed per day, it's best to make your reservation with a boat company as far in advance as possible. Upon arrival at Skellig Michael, visitors have an opportunity to ascend up about 600 steep stone steps to reach the stone beehives of the monastery and take in breathtaking views of the island from above.
If you visit between May and August, you're likely to see some of the 10,000 Puffins who nest at the island each year. But there are many who worry that an influx of visitors will potentially harm these Porg-esque creatures. No, not by roasting them over an open fire à la Chewbacca. Rather, there's concern that those coming for their Star Wars fix may not be as concerned about conservation and protecting the delicate wildlife habitats as they strike their best Jedi warrior poses.
An Taisce, the National Trust for Ireland, sent a letter this past December to the Minister for Arts, Heritage and Gaeltacht, Josepha Madigan, to seek intervention in protecting Skellig Michael in the midst of its rebranding as a Star Wars fan destination. They worry that pressure to take advantage of Star Wars-related tourism will compromise the delicate balance that has been kept between visitors and wildlife.
"It is not clear, when it has been publicly and internationally understood for almost two decades that the island is a small and vulnerable location where hourly, daily, and yearly visitor numbers and activities have had to be controlled and restricted, how this can be consistent with the extensive new marketing enthusiasm which has already led to hundreds of extra people coming in hope of accessing the island," they say in a statement to Inverse.
According to the Skellig Michael management plan, a maximum of 180 visitors per day and no more than 11,000 per season is desired, a number "deemed sustainable in terms of protection of the National Monument." Following the release of The Force Awakens, over 14,000 visitors came in the summer of 2016 and over 16,000 in 2017. If the island is not properly maintained, it could lose its World Heritage status.
And then there were the porgs, err, puffins. Since 2016, they've been on the International Union for the Conservation of Nature (IUCN) Red List . According to the An Taisce report, there are 60 Puffin nests immediately adjacent to or under the monastic steps with hundreds more nearby.
The report states, "In the summers of 2016 and 2017 the puffin nesting ground where Mark Hamill stood for his scene in the first film was being trampled by fans who would not heed instructions to consider live nests and chicks hidden underground. This has now been fenced-off." But, the fences themselves are harmful for the birds coming and going from their nests. "These issues relate to the vulnerable realities of the island location, which are overwhelmingly incompatible with an extrinsically-based commercial enthusiasm for mass marketing of Skellig in the tourism trade."
The Minister's Office maintains, through a release they shared with Inverse, that the "UNESCO status of the island is not in question. The visiting season is time limited and out of season landings are prohibited. Visitor numbers are also subject to a fixed daily maximum of 180 which there are no proposals to change." Though the Office states that no harm was done during filming and that the entire process was " limited and closely managed by ornithological, wildlife and archaeological experts", An Taisce said they have only received a "standard acknowledgement from Ministers office to date" regarding their letter of concern over subsequent tourism.
The fact that visitors are showing up in full costume has lead An Taisce to worry that the spirit of conservancy is being jeopardized. But Tara Fleming from Chilliwack, Canada, who visited Skellig Michael in September 2017 said there were quite a few Star Wars fans in her group, but she did not recall seeing anyone being disrespectful to the area. "There is someone at the top who is very educated in the history of the area, who not only gives an educational talk but also oversees the visitors." She shared with Inverse.
The guides present are from the Office of Public Works, and they oversee visitation to Skellig Michael from the mainland to the island. Padraic Campbell from the OPW told Inverse, "Prior to taking the boat to the island, visitors are advised they should visit the Skellig Experience Centre in Portmagee to view the Skelligs safety video. Apart from the safety aspects, this film offers a guide to visitor behavior and protection of the wildlife on the island." The guides stay on the island during the entire tourism season and provide visitors with a mandatory lecture before they ascend to the monastery. According to Campbell, the talk includes an appeal for visitors not to interfere with wildlife. "In fact, the guides insist nobody deviates from the approved path or trample on uneven terrain over where nests, although not visible to visitors, may be located."
So will your visit to Skellig Michael hurt the Porgs? Not intentionally, as long as you put yourself in the mindset of a conservationist before you put yourself in the mind of a Jedi. You may be excited to have reached Luke Skywalker's resting place, but check yourself. Resist temptation to get close to the wildlife, as adorable as those Porgs can be. Do not go looking for green milk and forgo your costume if it impedes your ability to walk up steep stone steps. Besides, Storm Troopers don't even belong on Ahch-To! Enjoy your trip responsibly, and may the force be with you.