Postal Service Clarifies Mail Delivery Government Shutdown Status
Will you get your mail today?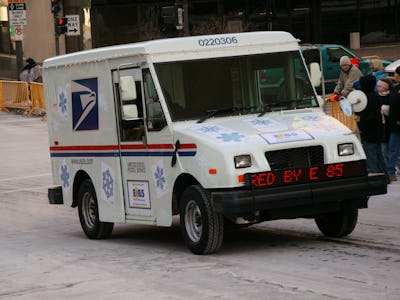 Flickr / Mulad
Exactly one year to the day after Donald Trump was sworn in as the 45th president of the United States, the federal government shut down. But, don't worry, you'll still be able to get your mail. The United States Post Office has responded to questions about how the government shutdown impacts mail delivery. In short: it doesn't. And that's all thanks to the nature of the USPS itself.
On Saturday, the official Twitter account for the U.S. Postal Service said "USPS operations will not be interrupted due to the Gov't shutdown, and all Post Offices will remain open for business as usual. Because we are an independent entity that is funded through the sale of our products and services, and not by tax dollars, USPS will not be impacted."
Essentially, this means that because USPS charges you for that special tape or proprietary cardboard boxes when you go to send a package, its coffers aren't exclusively reliant on the federal government. So, if you're expecting a package or a letter today, mail service is operating normally.
Why did the federal government shut down to begin with? On Friday, because Congress was unable to come to budget agreements, the government technically ran out of funding at midnight. Basically, the government missed its own deadline on how it was going to allocate funding for the year. Most of the budget disagreements occurred because Republicans and Democrats clashed over immigration policies. In a characteristic move, President Trump took to Twitter on Saturday morning and accused Democrats of "playing shutdown politics," because they are "more concerned with Illegal Immigrants than they are with our great Military or Safety at our dangerous Southern Border."
Despite the shutdown, the Wall Street Journal reported on Saturday that "the Senate was expected to be back in session at noon, while House lawmakers were told to return to work for a 9 a.m. session."
It was also reported that President Trump has canceled a trip he'd previously planned to a private resort in Florida, where he was expected to celebrate the conclusion of his first year in office.
Hi there. You've made it to the bottom of this story! Speaking of which… we're giving away an epic $5,000 ski trip to Banff, Alberta. Click here to enter! ⛷