17 Pairs of Sick Socks to Keep Your Toes Not Froze This Winter
For the classiest – and coziest – occasions.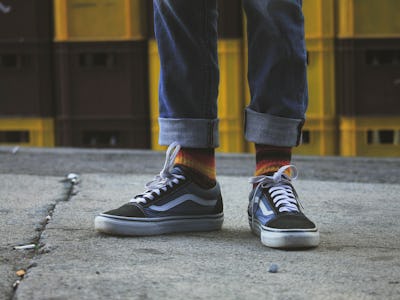 Unsplash / Sara Rolin
Buying and maintaining a good sock drawer seems like awful boring work, especially when the dang things are so easy to lose. But! You're wrong. Sock-buying can be a fulfilling, almost zen-like experience that helps you simultaneously ask and answer the questions "what kind of sock person am I?" Fun? Novelty? Colorful? Warm? Utilitarian? There's room for all.
Goodthreads, the Amazon-exclusive apparel store, delivers exactly what it promises: Good, simple everyday basics. These socks are no exception. [Amazon, $15.00]
Advertised as "Colorful Funky Socks for Men", and for good reason! It's a good price for a dozen pairs of socks, which will liven up every outfit you wear for nearly two weeks without having to do laundry. [Amazon, $31.99]
Some nice winter colors in Okiss's lineup, which are some of the hardest-wearing socks you're gonna find for this good a price. [Amazon, $16.99]
No two ways about it: these bad boys are warm as hell. Kick your way through as many snowbanks as you want while you're wearing these. [Amazon, $24.00]
For the deep, introspective socks-wearer, these say "I've been to a museum" just as loudly as they say "I'm one of those fun socks people".[Amazon, $14.99]
Now we're talkin'. Look at these guys. Imagine padding around your house in these toasty things. You don't have to imagine it! You can live it. [Amazon, $14.99]
I love the wacky design on these, and since I have flawless taste when it comes to garish socks (I own DOZENS of pairs), this is an endorsement you can trust. [Amazon, $15.99]
Subtle, stylish, and warm as hell. A worthy upgrade to any sock drawer. [Amazon, $15.99]
These things have, would you believe it, gold toes, and run longer than a lot of standard socks. Great for longer days with more walking where you still want to feel a little fancy. [Amazon, $18.98]
For people who aren't afraid to be "a little much" occasionally. [Amazon, $12.99]
These extra-luxurious merino wool socks have earned that snooty French accent mark. [Amazon $19.99]
KONY 2018! [Amazon, $9.90]
A quick, effective, not-super-flashy option. Has the added bonus of automatically becoming nine pairs when you inevitably lose two individual socks within the first week. [Amazon, $29.99]
No fuss. A crisp, clean four-pack of some very well-made linen socks. [Amazon, $13.99]
The kind of socks your grandpa would wear. But in a cool, good, throwback kinda way. [Amazon, $8.86]
The Tie Bar is well-known for its affordable, convenient, high-quality online selection, and this pair of classy long-lasting socks is up there with the best of 'em. [Amazon, $9.99]
These socks don't judge, and will let you do whatever the hell you feel like outside while staying warm and dry all day. [Amazon, $27.99]