Interactive Map Shows Just How Fast the Flu Took Over the U.S. This Season
But is it as bad as it looks?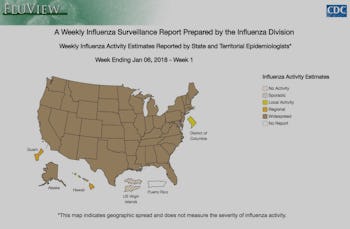 CDC
The flu season is in full swing, and it's as vicious as ever. According to the U.S. Centers for Disease Control and Prevention, influenza is "widespread" in all of the U.S. states except Hawaii. Since that classification is pretty vague, let's put some numbers behind it.
As of the end of the week, concluding January 6, the most recent week for which data is available, 20 children had died from the flu, more than 149 out of every 100,000 people had been hospitalized for the flu, and as Inverse previously reported, many states have reported higher numbers of people being hospitalized than at the same point last year.
One of the main reasons this flu season seems so bad is that the dominant strain, influenza A(H3N2) is not as responsive to vaccinations as hoped. The current flu vaccine being administered is only about 32 percent effective against H3N2.
As if the numbers aren't enough, the CDC has released a pretty wild map that shows just how fast the flu took over this season. Here's the CDC map, which, as you can see, is pretty much all the same color, indicating the "widespread" status of the flu in most states.
According to the CDC, the flu is considered "widespread" under specific circumstances: "Outbreaks of influenza or increases in [influenza-like illness] cases and recent laboratory-confirmed influenza in at least half the regions of the state with recent laboratory evidence of influenza in the state."
"This is something we don't normally see, which is why there's a public sense that the flu is so severe this season," said Dan Jernigan, MD, MPH, the director of the CDC's Influenza Division, at the CDC's Public Health Grand Rounds on Tuesday, where the purpose was to address the severe flu season.
And while it does look bad, it's hard to say whether it's actually worse than other years. When we compare the CDC's statistics for deaths during the 2017-2018 flu season to the past three, we can actually see that at the same point in the year there were far more deaths during those three previous seasons than there have been this season.
Even though H3N2 was the dominant flu strain during the 2014-2015 season, as it is this season, experts say that part of the season's high death toll could have resulted from that year's vaccine matching poorly with the virus that was circulating. This year, doctors may have been better prepared.
Whether this year is more, less, or equally severe than previous years, the same rules apply: Stay home if you're sick, wash your hands often, and gosh darn it, get a flu shot!
Hi there. You've made it to the bottom of this story! Speaking of which… we're giving away an epic $5,000 ski trip to Banff, Alberta. Click here to enter! ⛷