'Day of the Dead: Bloodline' Star on the Film's Toughest Scene
Johnathon Schaech plays a real monster even before a zombie outbreak.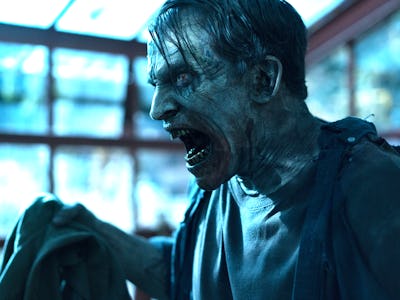 Saban Films
On the CW superhero series Legends of Tomorrow, 48-year-old Johnathon Schaech plays the anti-heroic Jonah Hex, a scarred bounty hunter who prowls the Old West for wicked men. But in the new horror film Day of the Dead: Bloodline, directed by Hèctor Hernández Vicens, Schaech plays a legit villain who has one of the strangest character arcs in modern horror.
In Day of the Dead: Bloodline, a remake of the 1985 George Romero classic available now on VOD and DVD February 6, Schaech co-stars as Max, a sociopath who sexually assaults the film's main lead, Zoe (played by Sophie Skelter). In an interview with Inverse, Schaech got honest about his character, who he describes as a real, genuine monster even before the make-up.
"He is a solitary, isolated man," Schaech tells Inverse. "He doesn't know how to act properly and completely does some of the worst things you can do to a human being. So when he's bitten, he basically has to look at his life, he goes through the motions of death. And he sees what he was, and he's trying to redeem himself throughout the film."
Without spoiling too much, in the end Sam does help the humans fight back against extinction thanks to his unique body chemistry and the infection. Still, Skelter's Zoe still gets the final say, and the film makes clear that Max is still indisputably a monster regardless of the condition of his corpse. "The character is a monster before the make-up," Schaech says.
Scheach tells Inverse that he always wanted to be a monster — he just didn't expect the kind of monster he became for Bloodline. Initially Schaech was attracted to the role because it bore surface similarities to Bub in George Romero's original Day of the Dead. "I'm a huge fan of George Romero, and I wanted so badly to play Bub," Schaech explains. "I got to play Jonah Hex, but I wanted to play a monster like Frankenstein."
Physically, Schaech also grew beastly, packing 35 pounds of additional muscle to play the part. ("I couldn't stand to eat that much food," Schaech bemoans.) Though he'd eventually turn into a husk of meat and bones, Schaech reasoned that size was necessary to contrast himself against Skelter on screen."Even though he was trying to be soft and vulnerable [at first], he looks like a creature that can snap your neck in a second," he says.
Day of the Dead: Bloodline may not be the most sensitive, or even likely, film to participate in combating rape culture. It was written and directed by men, with only one female producer — horror actress Christa Campbell — among its ranks. The movie is also released amidst the #MeToo movement, in which sexual assault allegations against powerful figures, mostly men in industries like Hollywood and technology. So the scene that establishes Max's monstrosity early comes especially in sharp focus, setting an uncomfortable tone for the rest of the run 90-minute runtime.
But Schaech hopes that, in the tradition of George Romero using monsters and zombies to comment on real world issues, that Day of the Dead: Bloodline could resonate in some abstract way. "He crosses the threshold by taking something from someone else," says Schaech. "The individual uses their power to take what they want. That is Max before he's a zombie. It's in the national consciousness and if people could see that, that would be great."
Day of the Dead: Bloodline will be available on DVD February 6.