YouTube Will Release Intense Rap Battle Movie from 'POWER/RANGERS' Director
Joseph Kahn went from Taylor Swift to rap satire in 2017's 'Bodied.'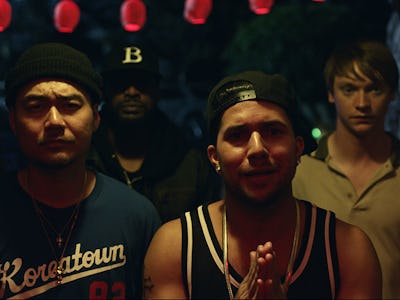 YouTube Red
Remember back in 2015 when the internet woke up to a mega-violent fan-film of the Power Rangers starring Katee Sackhoff and James Van Der Beek? Well, Joseph Kahn, the director of POWER/RANGERS, also directed an intense movie about the world of underground rap battles. It's called Bodied, and it's finally getting a wide release through YouTube.
In an effort to amp up its film and TV library, YouTube has secured the rights to Bodied, directed by Kahn and produced by rapper Eminem. The film will first be screened for a preview at this month's Sundance Film Festival prior to a theatrical release later this year. And after that, Bodied will be available to stream on YouTube's subscription platform, YouTube Red.
Though Bodied doesn't have gritty ex-teenaged superheroes in color-coded costumes, it is still a must-see movie and exists as a kind of anti-8 Mile. Calum Worthy, from Netflix's American Vandal, stars in Bodied as Adam, a Ph.D candidate who becomes obsessed with the underground rap scene for a thesis project. Unlike B-Rabbit in 8 Mile, Adam is as white privileged as they come, and throughout the film gets brutally torn down and built back up as a competitive rapper. All the while, Adam stands out from everyone else, making impossible Ivan Karamazov references in his bars.
Bodied premiered last year at the Toronto International Film Festival to critical acclaim, and captured the Audience Award at the 2017 Fantastic Fest in Austin. The film has a 95% "Certified Fresh" rating on Rotten Tomatoes.
In addition to POWER/RANGERS and Bodied, Joseph Kahn is also recognized for a library's worth of music videos for pop musicians like Taylor Swift ("Blank Space," "Look What You Made Me Do"), Eminem ("Without Me," "We Made You"), and the Backstreet Boys ("Everybody (Backstreet's Back)"). In 2004, Kahn directed the action movie Torque and the teen comedy-horror movie Detention, which starred Josh Hutcherson prior to his rise to fame in The Hunger Games.
Bodied will be available on YouTube Red later this year.