Han Solo Will Meet Chewbacca According to Official 'Solo' Synopsis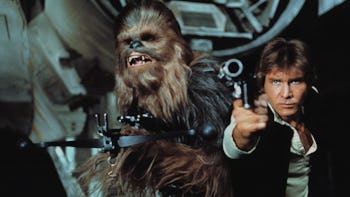 Disney/Lucasfilm
The most historic meeting in all of Star Wars history will finally be depicted on screen. How Han Solo met and became partners with Chewbacca, everyone's favorite Wookiee, will be a huge part of Solo: A Star Wars Story. The official synopsis from Disney has revealed that the pair won't begin the film as partners.
On Tuesday, Disney shared its 2018 media kit, which contained the following official synopsis for Solo: A Star Wars Story.
Board the Millennium Falcon and journey to a galaxy far, far away in Solo: A Star Wars Story, an all-new adventure with the most beloved scoundrel in the galaxy. Through a series of daring escapades deep within a dark and dangerous criminal underworld, Han Solo meets his mighty future copilot Chewbacca and encounters the notorious gambler Lando Calrissian, in a journey that will set the course of one of the Star Wars saga's most unlikely heroes.
Though nothing about this synopsis is earth-shattering, the idea that Han and Chewie's origin story will be depicted is pretty great. In some version of old canon, Han began his career not as a criminal, but as a pilot in the Imperial Navy. When he refused to transport a bunch of Wookiee slaves, Chewbacca felt he owed Han a "life debt," which sort of explains why he's so loyal to Han even when Han acts like a jerk.
Presently, the idea of Han being an Imperial pilot isn't part of real Star Wars canon, meaning, Solo is poised to tell the story of Han and Chewie's partnership for the first time, officially.
Notably, the synopsis for Solo maintains that the film will still be released on May 25, 2018, despite several rumors to the contrary. We still haven't seen a trailer for the movie even as the premiere date draws closer and closer.