Ethereum's Vitalik Buterin Leaves VC Firm to Focus on Crypto's Future
He claims fees are stifling growth.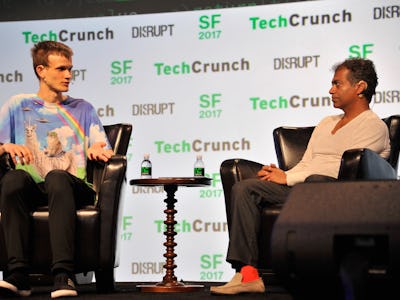 Flickr / TechCrunch
Vitalik Buterin, the co-founder of Ethereum — the world's second most popular cryptocurrency, trailing only bitcoin — has left the China-based venture capital fund Fenbushi Capital on Monday.
According to the report, his reason are to rededicate his time to making sure Ethereum runs at full potential and to taking a larger role in shaping the future of blockchain technology in general.
Buterin was never a full-time employee at the VC firm, as he spent a lot of his time working for the Ethereum Foundation. Instead, he had the title of general partner, according to Fenbushi's website. Now he has confirmed to TechCrunch that he will be taking a step back but maintain an advisory role with the firm.
In a statement to Tech Crunch, Buterin says that 2017 has brought so much hype around blockchain technology and cryptocurrencies that it is actually stifling their growth. That is mostly because of the growing transaction fees that crypto enthusiasts are forced to pay when they want to move their tokens.
"2017 really has been the year where hype in crypto, including financial hype and social hype in general has far exceeded the reality of what existing blockchain systems can offer," Buterin told TechCrunch. "There is a lot of attention, and a lot of eager expectation, but as far as reality goes the practical usability of blockchains has in some cases even regressed due to rising transaction fees."
He wants to make 2018 the year Ethereum tackles these cryptocurrency scalability problems — or the fees making small payments not worth it.
Buterin has been commenting on Twitter n recent months on how this is a serious problem that the sector will eventually have to deal with. He's pushed the community to produce solutions instead of just ogling at the ballooning prices of ether or bitcoin.
Buterin is currently working on a project with Joseph Poon, the author of the Lighting Network for Bitcoin, called Plasma.io. This will essentially change how transactions are added into the blockchain. Buterin and Poon claim it will be a first step in rectifying those scalability issues.