Donald Trump Cancels London Trip, Blaming Obama for a Bush-Era Decision
Trump said the new London Embassy was the reason for his change in plans.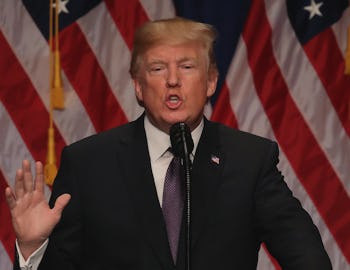 Getty Images / Mark Wilson
President Donald Trump has canceled his trip to the United Kingdom, planned to take place in February, blaming the Obama administration for a deal to move the country's London embassy to a new location. However, the deal in question was struck under the Bush administration, leading to further debate about why Trump really canceled the visit.
"Reason I canceled my trip to London is that I am not a big fan of the Obama Administration having sold perhaps the best located and finest embassy in London for "peanuts," only to build a new one in an off location for 1.2 billion dollars," Trump said on his Twitter page Friday. "Bad deal. Wanted me to cut ribbon-NO!"
The decision to move the embassy from Grosvenor Square to Nine Elms was announced in October 2008, three months before Obama took office. The move was reportedly spurred by a number of planned security upgrades in the wake of the September 11 attacks.
Sadiq Khan, the Labour Party mayor of London, told the Evening Standard that Trump had "got the message" that his values conflicted with those of Londoners, and that his visit would have been met with "mass peaceful protests."
Khan's comments were criticized by members of the Conservative Party government. Foreign secretary Boris Johnson said that "we will not allow U.S.-UK relations to be endangered by some puffed up pompous popinjay in City Hall." Prime minister Theresa May's office responded by admitting that "Boris expresses himself in his own inimitable way," but agreed with the sentiment that "any risk to the crucial U.S.-UK relationship is not in our country's best interests."
The previous embassy site was something of a curiosity in that the United States didn't actually own it outright — it was leased out by the Duke of Westminster, who once joked that he would sell if the government returned his family's land confiscated in the American Revolution. Because of that, the American government never owned the land to "sell" the embassy in the 2008 deal.
Woody Johnson, the current United States Ambassador to the United Kingdom, said in December that he thought Trump would be "very impressed with this building and the people who occupy it," and that the embassy was a "signal to the world that this special relationship that we have is stronger and is going to grow and get better."