Senator Claims Donald Trump Referred to African Countries as 'Shitholes'
CNN anchors Anderson Cooper, Don Lemon slammed it as a racist statement.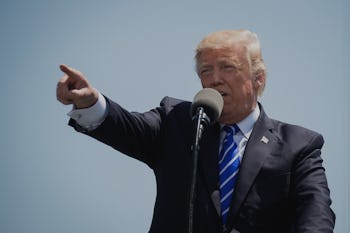 Getty Images / Drew Angerer
During an Oval Office meeting with lawmakers about immigration on Thursday, sources say President Donald Trump referred to African nations and Haiti as "shitholes." The remarks have since received criticism from all areas of the media. Democratic Senator Dick Durbin, present at the meeting where the comments were made, confirmed Friday that Trump made several comments that were "hate filled, vile and racist."
Trump hosted a discussion on Thursday that included a conversation about restoring protections for immigrants from Haiti, El Salvador and African countries. It was then that Trump apparently asked, "Why are we having all these people from shithole countries come here?"
Durbin confirmed that the president used the term repeatedly.
"He said, 'Haitians? Do we need more Haitians?' And then he went on when we started to describe the immigration from Africa that was being protected in this bipartisan measure. That's when he used these vile and vulgar comments, calling the nations they come from 'shitholes.' The exact word used by the president, not just once, but repeatedly."
The president denies that the circulated quotes are accurate.
"The language used by me at the DACA meeting was tough, but this was not the language used," Trump said on his Twitter page Friday. "What was really tough was the outlandish proposal made - a big setback for DACA!"
On Thursday evening, CNN anchor Anderson Cooper strongly criticized Trump's comments, describing the outburst as "woefully ignorant" and "racist."
"James Baldwin, the great writer, the great American, once said that ignorance allied with power is the most ferocious enemy justice can have," Cooper said. "For the president of the United States to believe that Haitians have not contributed extraordinary things to society, that is ignorant. For him to claim that all the countries of Africa are 'shitholes' is woefully ignorant."
Cooper pointed to a New York Times report from three weeks ago, which claimed that in another meeting Trump referred to 15,000 Haitians entering the country as "all hav[ing] AIDS," and complaining that 40,000 Nigerians would never "go back to their huts" after seeing the United States. White House press secretary Sarah Huckabee Sanders has denied that Trump made derogatory comments about immigrants in the referenced meeting. The White House has not denied that Trump's most recent comments took place.
"Perhaps the White House feels the president's remarks will be well-received in some parts of this country, among some parts of the president's base, and perhaps that's true, but it doesn't make what he said any less ignorant or any less racist," Cooper said.
"Not racial, not racially charged, racist," Cooper said. "Let's not kid ourselves. Let's not pretend or dance around it. The sentiment the president expressed today is a racist sentiment."
Watch Anderson Cooper's rebuttal below:
Cooper is not the only public figure to speak out. CNN anchor Don Lemon started his show by stating that "the president of the United States is racist."
CNN counterterrorism analyst Philip Mudd also criticized the remarks, plainly stating that "we should be ashamed."