First Intense Photos of 'Handmaid's Tale' Season 2 Go Way Beyond the Book
We're going on a trip to the Colonies.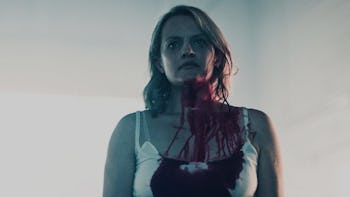 Hulu
Season 1 of Hulu's acclaimed Handmaid's Tale adaptation went beyond the pages of Margaret Atwood's classic book, including a trip up north to Canada. The first images from the sophomore season came out on Friday, and they reveal that this time around we'll be traveling down south, to the polluted, contaminated wastes known as the "Colonies" outside Gilead.
Also, Offred is covered in blood and out of fucks to give.
Entertainment Weekly premiered the photographs, as the publication is wont to do, and they also spoke to showrunner Bruce Miller, who said he and Atwood "started to talk about the shape of Season 2 halfway through the first."
In the book, we only read whispers about the Colonies. They're badlands, vast swaths of the former United States that have been ravaged by radiation. Gilead sends its prisoners to work in forced labor camps in the Colonies, and prisoners tend to die within a couple years of being sent there. What stories, exactly, Hulu's show will tell down in the Colonies remains to be seen.
Another image shows a bunch of mostly black-clad Handmaids participating in a Handmaid's funeral. Whose funeral it is, is unknown. "Everything from the design of their costumes to the way they look is so chilling," Miller told Entertainment Weekly.
The last of the three pictures shows Elisabeth Moss as Offred/June. Season 1 left off more or less where the book ended, with Offred entering a Gilead van, unsure whether it would be taking her to freedom or a detention center. In the Season 2 picture, she's covered in blood and looking stoic, so it's really hard to tell how things are going for her.
Hulu hasn't announced a specific premiere date for The Handmaid's Tale Season 2, though the streaming service has said it will debut sometime in April of 2018.