Trump Says U.S. Sold Norway Jets that Only Exist in 'Call of Duty'
The F-52 is a terrifying war machine. It's also fictional.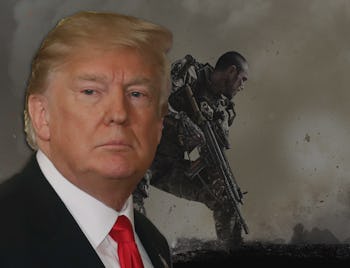 Getty Images / Mark Wilson
To show off the U.S. military's might amid growing tensions with Russia, President Trump announced that back in November, the U.S. sold ally nation Norway several F-52 fighter aircrafts, manufactured by defense company Lockheed Martin. It sounds intense. There's just one thing: The F-52 planes aren't real. They exist only in the video game Call of Duty.
On Wednesday, the President of the United States announced in a formal statement that the production and delivery of several F-52 and stealth F-35 jets, the most advanced jet in the U.S. military arsenal.
"In November we started delivering the first F-52s and F-35 fighter jets," said Trump. "We have a total of 52 and they've delivered a number of them already a little ahead of schedule."
While the F-35 is totally real, the F-52 is not. It was made only for the 2014 first-person shooter game Call of Duty: Advanced Warfare, in which gamers can control the plane in a level that plays out like Luke Skywalker's "trench run" on the Death Star at the end of Star Wars. You can see the level below. (And yes, in case you're wondering, that is Kevin Spacey in the game. Unfortunately.)
Given the unlikely scenario that Trump plays video games, let alone would remember a specific weapon from a game that's now four years old, he likely mixed up his words — combining "52" (the number of planes set to be made and sold) and the "F" designation for American war jets.
In a statement from Lockheed Martin to The Washington Post Thursday, the defense company confirms it sent three F-35s to Ørland Air Base back in November while an additional 40 are approved for funding thus far.
The F-52 isn't real, but could it be? Maybe not for a few decades, as Call of Duty: Advanced Warfare — as its name implies — is set between the advanced years 2054 and 2061, and its single-player story begins with a North Korean invasion of Seoul. With Trump's unpredictable behavior and incendiary attitude to the DPRK, let's hope fantasy never becomes a reality.