General Mills Wants You to Have Actual Food for Breakfast Instead of Chemicals
But what the hell's the point of Trix without artificial colors and flavors?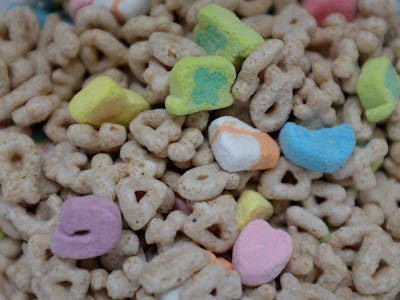 Getty Images
General Mills announced today they'll no longer serve pretty, delicious chemicals for breakfast. The food manufacturer will phase out artificial ingredients and coloring in cereals like Reese's Puffs because moms and dads apparently finally got around to reading the nutrition label on that box of Trix.
A surprisingly high 60 percent of General Mills' cereals are already free of artificial flavors and colors; the new changes will account for the remaining 40 percent of their cereals that still had unpronounceable ingredients with numbers in them.
Cereals with marshmallows in them like Lucky Charms, which were never the most healthy choice for your morning wake-me-up to begin with, will likely take a little while longer since it's probably all the unnatural stuff in them that makes them so much like crack.
In a press release, the president of General Mills' cereal division said: "We're simply listening to consumers and these ingredients are not what people are looking for in their cereal today," and later, "With our consumers, it reached a tipping point in the last couple of years with the trend toward simpler food." Simpler food! But not so simple it doesn't come in a plastic bag inside a box.
In any other case some kind of flavor change would be a blatant PR move, but still, this blatant PR move seems pointed in the direction of overall health. They could have just kept mixing beakers together and throwing whatever random tasty contents they came up with in the pot, but instead they tried to deliver a better alternative to people noshing on their Reese's Puffs. Who, let's face it, are probably not the most health-minded folks you know.
In conclusion: the Gorillaz would approve.