How to Keep Playing 'Pokémon Go' After Apple's Latest iOS 11 Upgrades
If you want to catch them all, you'll have to upgrade.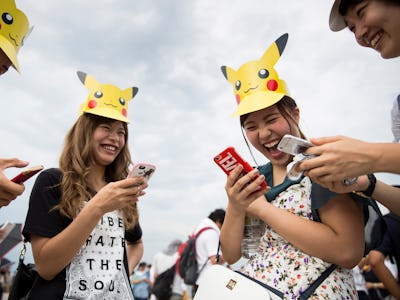 Getty Images / Tomohiro Ohsumi
It's 2018, and diehard Pokémon fans are still trying to catch them all in Pokémon Go. Unfortunately, a significant few will be unable to so after February 28, as Niantic will end support for older Apple devices that are unable to upgrade to the latest iOS software, iOS 11. So if you're still eager to catch Scythers and Snorlaxes on an iPhone 5 or iPhone 5c, or even an iPhone 4, you will want to — ahem, evolve your smartphone.
On Tuesday, Niantic wrote on the official Pokémon GO website confirming the end of support for older Apple devices after February 28, 2018, that are incapable of upgrading to the latest iPhone operating system, iOS 11. Niantic says this is because of improvements to the augmented reality game "that push the application beyond the capabilities of the operating systems on such devices."
In layperson's terms, the technology in older phones is, well, old, and for the game to continue working and improving for everyone, everyone's devices have to be up to date.
Niantic continues, "This change will take effect on 02/28/2018. After that date, Trainers using affected devices may no longer be able to access their Pokémon GO accounts from that device, or use their PokéCoins or other items in their Bags. They will need to switch to a supported device to continue playing Pokémon GO. You can see the full list of impacted devices and learn more by visiting our Help Center."
In the Help Center, Niantic listed specific Apple devices that will not be supported after the February update. They include:
iPhone 5c (released 2013)
iPad 2nd, 3rd and 4th generation, (released 2011-2012)
iPad mini 1st generation (released 2012)
The news has been met with negativity by users, especially those who use older iPhones, which disproportionately includes lower-income individuals and young children.
A user on Reddit's r/pokemongo wrote, "My kids play on my old phones, and now both of them will be unable to play anymore, which is a bummer."
Another user said, "I don't want to shell out thousands of crowns just to be able to play this game." The Reddit thread is also full of Pokémon GO players asking for help identifying the cheapest devices that upgrade to iOS 11.