CES 2018 Deals With Sudden Blackout, Attendees Tweet Through It
Quick, use your iPhone flashlight!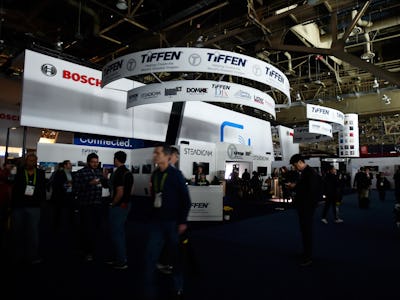 Getty Images / David Becker
What could be the worst possible thing that could happen at a tech trade show? A few bugs during a live demo? A speaker completely going off script? Good guesses, but no.
The answer is a blackout, and that's exactly what's going down at CES 2018 inside the Las Vegas Convention Center right now.
The outage hit the annual tech convention at around 11:15 PT right at the start of its second day.
Engadget reported that the power began to fail throughout several halls which then extended to several booths and TVs. Even the main lighting was down briefly and security was not allowing attendees to enter the Central Hall of the event.
The CES tweeted out that they're currently working to resolve the problem, though there haven't been any official statement detailing what might have caused this blackout.
Though the power in the convention center was out, people's phones still worked, and social media lit up with images and video of the darkened hall. Here are some scenes from a technology convention without lights. Oh the irony.