Volocopter's Flying Taxi Just Launched for First Time in U.S. at CES 2018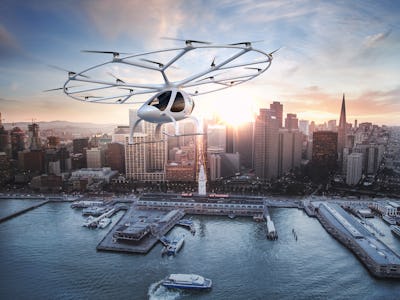 Volocopter
Volocopter's airborne dreams are finally taking off. The flying taxi firm, famed for its plans to transport commuters across the skies of Dubai, made a big splash at Intel's Consumer Electronics Show keynote on Monday. The two companies ended the show with a VC200 flying across the stage, the first time it has ever flown in the United States.
"It's here, it's an awesome technology, and it's realistic," Volocopter CEO Florian Reuter told The Verge in a Tuesday story. "It's going to come very soon, and it will have a practical impact on our everyday lives."
Volocopter has moved from strength to strength ever since its 2011 flight, where it earned the accolade of world's first manned flight of an all-electric multicopter. In September 2017, Dubai tested a two-seater prototype as part of plans to deliver a fully-autonomous flying taxi service, accessible via a smartphone app. The prototype model was capable of a flight time of 30 minutes, a cruise speed of 31mph, and maximum air speed of 62mph. If all goes to plan, a commercial program could start as soon as the earl 2020s.
The company announced during the keynote that Intel CEO Brian Krzanich was the world's first passenger in a Volocopter, an event that took place in a Germany exhibition hall in December 2017. To celebrate the partnership, Reuter unveiled a full-size prototype on the stage and delivered a brief demonstration.
Watch the flying taxi in action here:
Central to the company's commercialization plans is the Volocopter 2X. Featuring 18 motors and rotors, a three-phase synchronous motor, and nine swappable battery packs, the 2X is the culmination of these years of development. It's expected to feature a 17-mile range on a single charge at a speed of 43 miles per hour, or a 27-minute maximum flight time when flying a 31 miles per hour.Multiple redundancy systems, an emergency parachute, and a meshed polymer optic fiber network for reliable communications are all geared toward making the vehicle as safe as possible.
As for Krzanich, he appeared confident that his company's partnership will lead to a big new future for transit.
"That was fantastic," Krzanich said after the December flight. "That was the best flight I have ever had. Everybody will fly one of these someday."