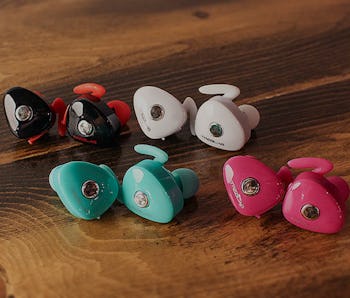 Innovation
Go Fully Wireless With The TREBLAB X11 Earphones
You deserve better than untangling your bad, tinny headphones every morning.
StackCommerce
Ever since Apple murdered the 3.5mm headphone jack live onstage in 2016, Bluetooth earphones have flooded the market. They're great: more convenient and tangle-free than their wired counterparts, and thanks to ever-improving Bluetooth technology, they don't sound terrible anymore, either.
That's where the TREBLAB X11 Earphones come in, which promise "CD-like sound quality through cutting-edge components". Unlike a lot of "wireless" earphones, there's not a cord to be found on these guys. While tiny, they also offer good noise cancellation and a built-in mic, so you can take calls as well as drown out the entire world. They also come with secure ear fins so they won't slip out while you sprint to catch the damn train.
The battery life isn't bad either. These guys, apparently, can last up to six hours without a recharge. That's six whole workouts! Or, if you're me, 24 whole workouts!
TREBLAB X11 Earphones usually go for $199.99, but Inverse readers can pick them up right now for only $36.99.