Lana Del Rey Says Radiohead is Suing Over This Song's Similarity to 'Creep'
A bitter dispute is emerging.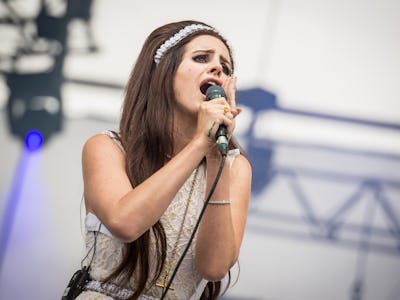 Getty Images / David Wolff - Patrick
Lana Del Rey is being sued over one of her song's similarities to the Radiohead classic "Creep." The pop star claimed on Twitter Sunday that the band's lawyers have been "relentless" in their claim, and the two sides will now take their case to court.
"It's true about the lawsuit," Lana Del Rey said on Twitter. "Although I know my song wasn't inspired by Creep, Radiohead feel it was and want 100% of the publishing - I offered up to 40 over the last few months but they will only accept 100. Their lawyers have been relentless, so we will deal with it in court."
The song in question is "Get Free," the closing track on last summer's album "Lust for Life." The Radiohead dispute focuses on the 1992 hit "Creep," the band's debut song that propelled them to their initial fame. Del Rey suggested during a Sunday concert that the lawsuit could result in the removal of "Get Free" from future releases of the album.
"Those sentiments that I wrote, I really am gonna strive for them, even if that song is not on future physical releases of the record," the singer told the audience during her performance at the Pepsi Center in Denver, Colorado, where she gave a speech about the lawsuit in between songs.
Listen to "Get Free" below:
And listen to "Creep" below:
It's not the first time the similarity has been highlighted. The Telegraph music critic Neil McCormick described the album's closing track in his review as "completely undermined by the fact that she has blatantly stolen the verse chord progression and melody from Radiohead's Creep," noting that he wouldn't be surprised by a lawsuit.
Oddly enough, "Creep" was also the subject of its own lawsuit. Albert Hammond and Mike Hazlewood sued Radiohead for copyright infringement, claiming their song bore stark similarities to the The Hollies' 1973 song "The Air That I Breathe." The two successfully received a split of royalties as a result. Because of this, the album "Pablo Honey" credits the pair as co-writers.
Listen to "The Air That I Breathe" below:
The pair didn't end up with a complete share of royalties as, in Hammond's words, "Radiohead agreed they had actually taken it from The Air That I Breath."
It seems Lana Del Rey is less likely to go down without a fight.