Everything to Know about 'OKNOTOK,' Radiohead's Upcoming Album
They're pushing the physical version over the digital.
by Monica Hunter-Hart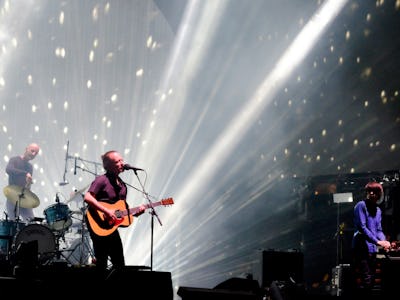 Getty Images / Trixie Textor
Somehow it's already been 20 years since Radiohead released their acclaimed album OK Computer. This prescient record about the digital age is now even more relevant to our world. So, fittingly, Radiohead is set to release a newly-remastered version of the album called OKNOTOK featuring eight B-sides and three new tracks.
The record, which comes out on June 23, will include the following never-released tracks: "I Promise," "Man of War," and "Lift." Radiohead used to perform those songs live, especially during their 1996 tours, but the group never recorded them. OKNOTOK will also include the following B-sides: "Lull," "Meeting in the Aisle," "Melatonin," "A Reminder," "Polyethylene (Parts 1 & 2), "Pearly," "Palo Alto," and "How I Made My Millions."
The physical version of the album will contain three vinyl records, a hardcover volume of artwork, a notebook full of Thom Yorke's notes from the time of the original release, a sketchbook of Donwood and Tchock's "preparatory work" for the album art, and a cassette mixtape of demos and session takes from the recording process for OK Computer. Yep, you read that right: in 2017, a cassette tape.
In a rejection of the digitalization described in the album, Radiohead is marketing the physical version of OKNOTOK as its primary form. They're still making .mp3 and .wav versions of the tracks available, though, in order to "avoid accusations of wilful obscurity," according to their website.
Fans have suspected that a 20th anniversary surprise was coming since Radiohead shared a staticky video on Twitter with a girl reciting lyrics from the OK Computer track "Climbing Up the Walls."
Radiohead described their reasoning for remastering the album as follows:
"The original analogue tapes are the highest definition version of the record, and nothing will ever beat them. However in the 20 years since the original release mastering technology has improved a lot, and with new equipment and techniques we can make a digital version that's an improvement of the original transfer."
Find the full track list and order the album here. OKNOTOK, Radiohead's first release since A Moon Shaped Pool, will come out on June 23 via XL Recordings.