These Spartan Hi-Tech Boxer Briefs Shield Your Junk from Radiation
The underwear contains silver to block radiation.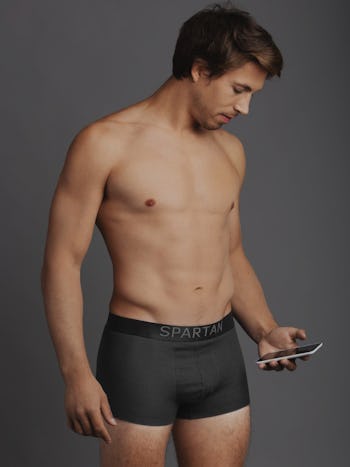 Spartan/Twitter
Ready to de-radiate your nuts? The Spartan Underwear, designed in Paris, was on display at Las Vegas' Consumer Electronics Show on Sunday. The company promises to shield the wearer's genitals from electromagnetic radiation in a bid to improve male fertility.
"We're bringing to underwear the same advanced technology used in spacesuits," Arthur Menard, co-founder and CEO of the company, said in a promotional video.
The underwear essentially works as a Faraday cage for your crotch. The design uses pure silver fibers in the boxer's cotton, which the company claims can block over 99 percent of cellphone and Wi-fi radiation. The material also has the added benefit of cutting down on the spread of bacteria.
Silver undies sound like a challenge, and Spartan is keen to stress the engineering effort that went into these:
The hard part was to manage to integrate the Silver Fiber in the cotton of the boxer without losing elasticity or creating a rigid fabric. We wanted to shield our little soldiers, but definitely not to wear armor. It took use months of work and hundreds of prototypes and different fabrics to get it just right, but with WaveTech we finally manage to create a fabric that is even more comfortable than your regular pair of undies.
These silver shorts have been a long time coming. Funded by an Indiegogo campaign back in January 2016, the team raised over $20,000 to bring its product to market. The company made waves at last year's CES when they demonstrated the underwear to the packed Vegas halls. Since then, the team has had the product certified by Maryland-based MET Laboratories in June 2017, meeting the IEEE 299-2006 standard that measures the effectiveness of electromagnetic shielding enclosures for frequencies between 9kHz and 18GHz.
Whether electromagnetic waves decrease male fertility is up for debate. Timothy J. Jorgensen of Georgetown University has said that studies that show this tend to come from "lower-tier journals of questionable quality." A spokesperson for Spartan told Inverse during last year's show that wearing the boxers is "an act of prevention that doesn't change anyone's habit so why not try it?"
The boxers ship in either black or blue, with five sizes ranging from small to extra-extra large. Prices start at €32 ($38.32) per boxer for a €320 pack of 10, rising to €42 ($50.29) for a single pair. Delivery to the United States costs $6.31 for one boxer, but shipping is free for orders over $125.