Underwear Company Wants to Keep Men's Private Parts Safe From Radiation
But does the science back the venture up?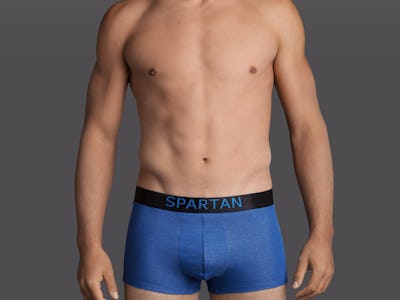 Spartan Underwear
Spartan Underwear wants to keep guys cool, stylish, and fertile with their "smart underwear." Recently unveiled at the Consumer Electronics Show, the company purports its boxer briefs are designed to protect dudes' junk from the electromagnetic radiation emitted by cellphones that many believe decreases male fertility overtime by, essentially, deep frying sperm.
Here's how the French startup explains the technology behind the underwear: The protection comes in the form of silver fibers that are woven into the cotton fabric of the underwear, which the startup claims blocks 99 percent of cellular and wifi radiation. "A number of major scientific institutions around the world have raised alarms over the harmful effects of wireless radiation," says the Spartan team on their website. From these studies, they say, it has been concluded that "wireless radiation has an adverse effect on male fertility."
At CES, Spartan has hosted a booth complete with dudes showing off the blue boxer briefs. They look like your everyday, basic underwear that can be found in a Joe Schmo's top drawer.
Current research on the subject of electromagnetic radiation doesn't necessarily support the relevance of Spartan's function. Many of the studies pointed to as evidence of the effects of this kind of radiation on male fertility "come from outside the radiation biology community, and are published in lower-tier journals of questionable quality," points out Timothy J. Jorgensen of Georgetown University. He says that the idea that your sperm count could be threatened by your cellphone is little more than a myth that is currently unsupported by real science. Others agree, noting that "based on pure physics alone, it is incredibly unlikely that radio frequency radiation can cause cancer" or sperm degradation.
"Spartan is fully aware of the studies that don't believe in radiations," a Spartan spokesperson told Inverse. "The fact is, despite every study, we don't have enough feedback to draw the only acceptable conclusion because constantly having a cellphone in the pocket is quite recent. So, in any case, wearing a Spartan pair of boxers is an act of prevention that doesn't change anyone's habit so why not try it?"
Still, the idea persists that has given rise to products similar to Spartan's undergarments. Spartan isn't even the first of its kind. Back in early 2016, some underwear by a German company called Kronjuwelen — which translates to "crown jewels" — were making waves. The company's premise and pitch was highly similar to Spartan. Kronjuwelen's undies were also laced with silver threads, but only claimed to be able to block 98 percent of cellphone radiation and a mere 70 percent of radiation from wifi.
Meanwhile, some people just aren't all that interested in keeping their spermies safe.
If the pseudoscience doesn't sell the product, Spartan may still hold something of interest to men. According to The Verge, "Spartan says that the silver in its undergarments makes these boxers antibacterial, ensuring that your equipment remains odor free, even after an active day." Most everyone can agree that deliverance from odors is something to be desired. A lot of products make similar promises, but Spartan's unique approach to the issue, even if it is more of a side effect, could carve out a niche in the market. Radiation or not, Spartan is set to join the ranks of pricey but inventive specialty undergarments at $45 per pair.