Read YouTuber Logan Paul's Apology for Filming Dead Body in 'Suicide Forest'
Paul has come under intense criticism for the video.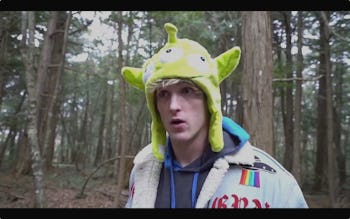 Logan Paul
Logan Paul apologized on Tuesday for uploading a video of a dead body hanging in Japan's Aokigahara forest. The 22-year-old YouTube vlogger, who has over 15 million subscribers, came under fire for a video where his group visited the area commonly dubbed "suicide forest." The footage received an almost immediate backlash, with Breaking Bad star Aaron Paul describing Logan as "pure trash."
In the 15-minute video, which received over a million views before Paul took it down, the group carry camping equipment out into the forest, accompanied by a guide. Aokigahara forest, located near Mount Fuji to the west of Tokyo, has the highest number of suicidesin the country, with around 100 deaths per year. Six minutes into Logan's video, the footage shows a blurred-out body hanging from a tree, with a blue bag resting nearby.
"This is top five craziest things I've experienced in my life," Paul says to the camera near the end of the video, standing outside the forest in the parking lot.
Logan, along with his younger brother Jake, made their names in 2013 on Vine through a series of prank videos. The pair are rumored to be millionaires, but with the demise of Vine they've had to make an awkward transition from the snappy six-second clips that brought them fame to longer, fleshed-out YouTube vlogs. Logan has so far had a less controversial career than his younger brother, who has been accused of racism and irritating his neighbors with constant parties. Jake's work with Disney came to an end last summer as the YouTuber said that he wanted to focus more on building his channel.
Logan's video attracted intense criticism:
Paul issued a swift apology soon after:
The statement's focus on suicide awareness attracted criticism. Game of Thrones star Sophie Turner described Paul as "an idiot," and the apology as "self-praising."
Read Paul's statement in full below:
Where do I begin…
Let's start with this -
I'm sorry.
This is a first for me. I've never faced criticism like this before, because I've never made a mistake like this before. I'm surrounded by good people and believe I make good decisions, but I'm still a human being. I can be wrong.
I didn't do it for views. I get views. I did it because I thought I could make a positive ripple on the internet, not cause a monsoon of negativity. That's never the intention. I intended to raise awareness for suicide and suicide prevention and while I thought "if this video saves just ONE life, it'll be worth it," I was misguided by shock and awe, as portrayed in the video. I still am.
I do this sh*t every day. I've made a 15 minute TV show EVERY SINGLE DAY for the past 460+ days. One may understand that it's easy to get caught up in the moment without fully weighing the possible ramifications.
I'm often reminded of how big of a reach I truly have & with great power comes great responsibility… for the first time in my life I'm regretful to say I handled that power incorrectly. It won't happen again.
I love everyone. I believe in people. I'm out here. Peace ✌🏼 #Logang4Life