Apple Reveals How It's Going to Make Things Right After Battery Controversy
Discounted battery replacements for most.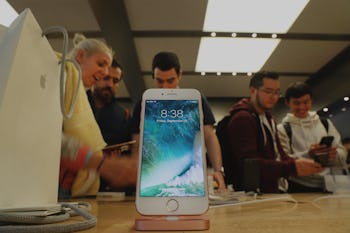 Getty Images / Spencer Platt
Apple wants to make right by iPhone users.
The company came under fire when news broke of phone batteries being intentionally slowed down. Now Apple is apologizing for the "misunderstanding," and offering iPhone owners a discounted battery replacement during the next year.
In a letter to its customers, published on Apple's site, the tech giant attempted to explain why their older phones seem to be "slowing down" as their batteries age.
"First and foremost, we have never — and would never — do anything to intentionally shorten the life of any Apple product, or degrade the user experience to drive customer upgrades," the letter reads. "Our goal has always been to create products that our customers love, and making iPhones last as long as possible is an important part of that."
To fix the issue, Apple is taking two steps: one being the battery replacement, the other a software update that will give users more insight on how their batteries are holding up, if not necessarily the ability to alter how battery life is managed.
"Early in 2018, we will issue an iOS software update with new features that give users more visibility into the health of their iPhone's battery, so they can see for themselves if its condition is affecting performance," the statement says.
Apple took this step to address the backlash it received when a developer uncovered what's become known as "slowdown saga," which claimed the company deliberately slows older phones down to drive up sales. Apple denied this claim to its customers, saying this was simply their strategy to maximize the performance of aging batteries, and the company reiterated its commitment to making quality, long-lasting products.
This apology comes after the iPhone maker received negative publicity and lawsuits regarding the apparent slowdown, which it did not reveal during an iOS 11 update.
To help undo the damage, Apple is reducing the price of an out-of-warranty iPhone battery replacement down to $29 from $79 for iPhone 6 or later whose battery needs to be replaced. The offer will begin in late January and will available worldwide through December 2018.