3 Things to Expect in 'Legends of Tomorrow' Season 3 Return on February 12
Constantine, Jonah Hex, and more will board the Waverider in February.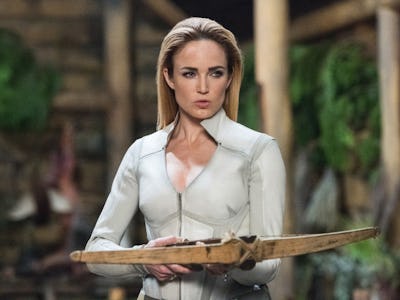 The CW
Gideon, set a course for February 12, 2018. That is when DC's Legends of Tomorrow returns from hiatus, picking up where the winter finale "Beebo the God of War" left off.
Amidst the chaos of Leif Erikson worshipping a Tickle Me Elmo doll when the conquerers landed in America, the demon Mallus made himself known to Sara Lance (Caity Lotz). With the Legends outmatched, they'll need the help of John Constantine (Matt Ryan, reprising his beloved TV role) to make Mallus GTFO.
After a better-than-expected first season and an explosive second season, Legends of Tomorrow Season 3 has managed to satisfy and entertain while feeling somewhat empty in the stakes department. Once again, the big bad this season has been Damien Darhk (Neal McDonough), inexplicably both alive and not at all intimidated even though he's had his ass kicked by the Legends a bunch of times already. A bespoke Darth Vader without the respirator, Damien Darhk is overstaying his welcome, but that doesn't mean he isn't fun to watch.
In anticipation for the mid-season return, here are three big guesses we have for DC's Legends of Tomorrow when the show returns.
1. More New Legends
In the wake of Firestorm's exit — both Stein and Jax — the Waverider has quite a few empty chairs. Executive producer Marc Guggenheim has acknowledged as much, telling ComicBook that the show will fill in Firestorm's place at the table eventually.
"We do have a plan for how to replace Firestorm on the bridge, and it's a really cool one. It's one we're really excited about," Guggenheim said. "We've always had a game plan. I just can't talk about the game plan. The CW publicity will determine when we get to unleash that bit of news."
But who could replace Firestorm? Will it be The Ray? Constantine? Human Target? The Arrowverse has gotten jam-packed that there really is no shortage of potential substitutes, though it'll take a lot to fill the Martin Stein and Jax-shaped holes in our hearts.
2. Finally, a Bi Constantine
For a short four months in 2014, NBC aired Constantine, a DC show that has since been retroactively part of the Arrowverse. The show's short but sweet 13-episode run meant so much of the Hellblazer comics were left unexplored, including the personal life of John Constantine.
As fans know, Constantine is one of the few bisexual characters in the DC Universe. Thankfully, the Arrowverse has no shortage of queer representation, and the producers of Legends of Tomorrow promise that Constantine will finally get to knock his boots with someone. "[W]e knew that an alienated, chain-smoking, bisexual, world-weary demonologist would feel right at home among our Legends," producer Phil Klemmer told The Hollywood Reporter.
Klemmer said that Constantine's guest appearance is guaranteed to have "some hot sex," but with whom? It can't be Leo Snart (Wentworth Miller), since Leo is committed with The Ray who is back on Earth-X. Sara, based on stolen glances in "Beebo," seems interested in Ava of the Time Bureau, though that hasn't stopped her from a one night stand (see: Alex Danvers, "Crisis on Earth-X").
Guarantee, with Legends of Tomorrow being Legends of Tomorrow, that Constantine will sleep with someone totally unexpected. My money's on Ray Palmer (Brandon Routh).
3. Jonah Hex Will Be Back
As Inverse previously reported, Jonathan Schaech will film a new episode of Legends of Tomorrow as Jonah Hex. What Jonah's role this time remains unclear, but for now, Constantine ain't the only rough guy in a long coat to make a welcome return. Seems the Waverider will cycle through several heroes before finding an official replacement for Jax.
DC's Legends of Tomorrow Season 3 will return February 12.