How Bitcoin Helped This Charity Build a Rwandan School
Zam Zam built a school in the Bugesera District.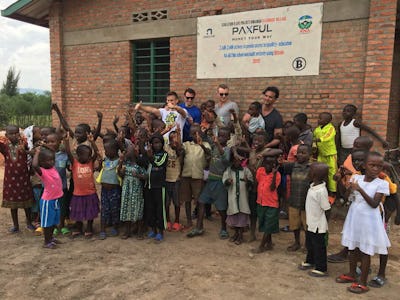 Paxful
Bitcoin could be the next big thing for charity donation. Just a few days after a mysterious user called Pineapple Fund promised to donate $86 million in bitcoin to charitable causes, one bitcoin exchange has taken the wraps off a cryptocurrency initiative to help people give to charity.
Bitcoin exchange Paxful worked with non-profit organization Zam Zam to launch #Built WithBitcoin, an initiative to encourage cryptocurrency holders to donate to charity. To start, Paxful donated $50,000 in bitcoin for construction of a Rwandan school, the first of several African schools the pair plan to build together.
"The world changes and evolves, and Zam Zam has to stay fluid and evolve with it," Zam Zam founder and president Yusuf Nessary tells Inverse. "Our number one goal is to improve the quality of life for people in need, and if digital currency can get us there more efficiently and at scale, then we are receptive to it."
The news comes as the price of one bitcoin edges toward the $20,000 mark, following a major boost in value over the past few months. Investors fear a major bitcoin price crash could cause disaster, with one website promising to predict when the bubble will burst. However, the soaring price has led to a piqued interest in the blockchain technology, and how others may use it to enable new transactions.
The school is in Kasebigege Village, located in Rwanda's Bugesera District. It will serve an area of around 7,500 people with schooling from ages three to six, with three classrooms and four restrooms. The school also has a portable irrigation system, a water catchment system and a 9,426-gallon water tank. The project also covers nearby wells and gardens.
While bitcoin's involvement may seem like a publicity stunt, its organizers see the cryptocurrency as a valuable potential asset in the charity world.
"Bitcoin and digital currency have tremendous philanthropic potential, especially in the developing world, where high exchange rates, bank fees and inflation can reduce the buying power of international donors," Nessary says.
Cryptocurrency will also enable Zam Zam to send amounts overseas to other organizations, enabling small-scale pilot projects.
"Our acceptance of digital currencies is about lowering barriers for both donors and humanitarian organizations such as ours," Nessary says.