Uber Now Classified as a Transport Service in the EU: Here's Why It Matters
It's not just a tech company anymore.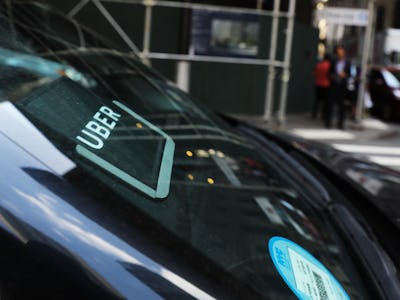 Getty Images / Spencer Platt
Uber is officially a taxi service in the European Union.
The EU's highest court ruled the Silicon Valley-based app is more than just a digital company that brings together passengers and drivers, and it should be regulated as a transport company.
"The service provided by Uber connecting individuals with non-professional drivers is covered by services in the field of transport," the European Court of Justice (ECJ) said.
"Member states can, therefore, regulate the conditions for providing that service," the ruling then said.
The court's reasoning centered on the fact that Uber "exercises decisive influence over the conditions under which the drivers provide their service," and that without the Uber app, passengers would not be connected to those contracted drivers. This is what makes Uber a transit service, as opposed to just a tech startup, according to the ECJ.
It's unclear what exactly the ruling means for Uber in the immediate future, but according to the cab-hailing service, it will continue to operate regularly in Europe.
"This ruling will not change things in most EU countries where we already operate under transportation law," an Uber spokeswoman said in a statement following the ruling.
"As our new CEO has said, it is appropriate to regulate services such as Uber and so we will continue the dialogue with cities across Europe. This is the approach we'll take to ensure everyone can get a reliable ride at the tap of a button."
While Uber hasn't had the easiest year, the company hasn't backed down when it comes to regulations. It's also facing a similar legal issue in London on whether it's allowed to operate as a taxi service, with the city — its most important market in Europe — refusing to renew the company's license to operate in September.
The EU case came about after a complaint from a group of Barcelona taxi drivers focused on unfair pricing and competition.
And while the decision can be deemed a win for professional taxi associations across Europe, it's unclear whether it will have a real impact on Uber's market share.
However when it comes to the American market, Uber is still facing legal battles in major U.S. cities. Many of Uber's legal battles — and there are many — focus on unrelated issues to what the European court decided, ranging from Uber's data collection practices to allegations of sexual assault by drivers. But one somewhat similar case deals with the issue of whether drivers should be considered independent contractors or Uber employees, again touching on the question of how Uber relates to the drivers and passengers who use the service.
Still, a major push from drivers or taxi associations across the country could set off a similar court case against Uber. Though, it's still to be seen whether a court like the Supreme Court will step in to regulate cab-hailing services across the board.