London Just Denied Uber's License Renewal: 'Not Fit and Proper'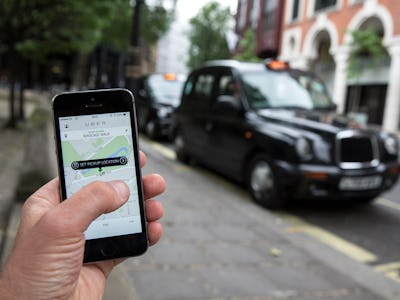 Getty Images / Oli Scarff
Transport for London has tackled Uber head-on. The body that manages transportation in the city announced on Friday that it will not renew Uber's private hire operator license after it expires on the last day of this month. The shock decision came after the agency concluded that Uber's London operation "is not fit and proper" to hold a licence.
Londoners, who have grown used to Uber as an alternative to the traditional black cab, responded with shock to the decision.
"I'm not getting back into black cabs," Reddit user MrBoonio said on the London subreddit. "That ship sailed a long time ago."
"I guess we're back to black cabs fucking us over and only accepting cash and not going outside zone 1," Reddit user Linwelinax said, referring to the London Underground ticket pricing zone that covers the very center of the city.
Others highlighted the impact this will have on people's jobs:
Part of the reason for the decision was due to the company's unsatisfactory approach to explaining Greyball. In March, it was revealed that Uber used a tool to flag enforcement officers. When marked, the app would discourage drivers from picking up these accounts. Uber told Inverse in a previous statement that this feature was used for protecting drivers from people looking to harm them.
"I fully support TfL's decision - it would be wrong if TfL continued to license Uber if there is any way that this could pose a threat to Londoners' safety and security," Sadiq Khan, mayor of London, said in a statement. "Any operator of private hire services in London needs to play by the rules."
In its statement, the body claimed that the decision was due to the company's "approach and conduct" which demonstrate "a lack of corporate responsibility" in terms of issues with public safety implications. TfL cited the following as part of its reasoning for this:
Its [Uber's] approach to reporting serious criminal offences.
Its approach to how medical certificates are obtained.
Its approach to how Enhanced Disclosure and Barring Service (DBS) checks are obtained.
Its approach to explaining the use of Greyball in London - software that could be used to block regulatory bodies from gaining full access to the app and prevent officials from undertaking regulatory or law enforcement duties.
Tom Elvidge, general manager of Uber in London, said in a statement that drivers undergo the same background checks as black cab drivers, safety is assured through the use of GPS tracking, a dedicated team works directly with the Metropolitan Police and an independent review found the "Greyball" tracking software had never been used in the U.K. for the purposes cited by TfL.
"3.5 million Londoners who use our app, and more than 40,000 licensed drivers who rely on Uber to make a living, will be astounded by this decision," Elvidge said. "By wanting to ban our app from the capital Transport for London and the Mayor have caved in to a small number of people who want to restrict consumer choice. If this decision stands, it will put more than 40,000 licensed drivers out of work and deprive Londoners of a convenient and affordable form of transport."
James Farrar, a co-claimant in an employment tribunal decision against Uber and chair of the Independent Workers' Union of Great Britain's United Private Hire Drivers branch, said in a statement:
This is a devastating blow for 30,000 Londoners who now face losing their job and being saddled with unmanageable vehicle related debt. To strip Uber of its license after five years of laissez faire regulation is a testament to a systemic failure at TfL. Rather than banish Uber, TfL should have strengthened its regulatory oversight, curbed runaway licensing and protected the workers' rights of drivers. The Mayor must call for an urgent independent review of TfL to identify the causes of failure and prevent something like this from ever happening again.
Uber has 21 days to appeal the decision, which it plans to do "immediately." It can continue to operate until any appeals processes have come to an end.
If you liked this article, check out this video about flying drone taxis coming to Dubai.