Elon Musk Just Released 3 Stunning Images of SpaceX Falcon Heavy Rocket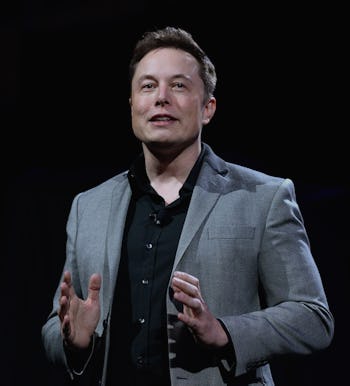 Getty Images / Kevork Djansezian
Elon Musk took the wraps off three images of SpaceX's Falcon Heavy rocket on Wednesday, and it looks incredible. The rocket, which the company describes as "the most powerful operational rocket in the world by a factor of two," is expected to carry two private citizens around the moon in late 2018.
Musk shared the images of the rocket, held at the Cape Canaveral Air Force Station in Brevard County, Florida, on his personal Twitter page.
There's a large amount of power on display here. The first stage is comprised of three nine-engine cores from the Falcon 9 rockets used for SpaceX's existing missions, totaling 27 engines working together at liftoff for over five million pounds of thrust. It has the ability to lift 119,000 pounds into orbit, more than twice the payload of the Delta IV Heavy at a third of the cost. In short, this thing is a beast.
It's been a rough ride to reach this point. First announced back in April 2011, the Falcon Heavy was expected to fly for the first time in 2013. The project suffered setbacks as it became clear the team couldn't just stick some Falcon 9s together and call it a day. SpaceX president and chief operating officer Gwynne Shotwell previously told Inverse that the Heavy could fly as soon as January.
View the images below:
Of course, Musk has diverted attention away from the Falcon Heavy somewhat by the announcement of the BFR (an abbreviation that contains the words "big" and "rocket"). Detailed at the International Astronautical Congress in Adelaide, Australia, in September, the rocket's 31 Raptor engines will deliver nearly 12 million pounds of thrust at liftoff for enabling manned missions to Mars.
While the Falcon Heavy may seem like old news as soon as SpaceX conducts its first BFR Mars trip in 2022, for now it symbolizes an impressive stepping stone toward the company's future plans.