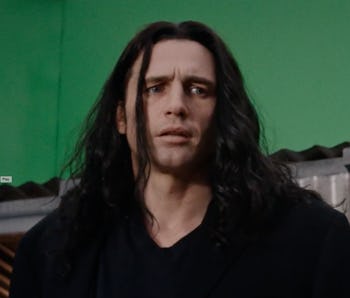 Entertainment
'Disaster Artist' Success Has Finally Made 'The Room' Mainstream
'The Room' is returning to theaters for one night.
New Line Cinema
The worst movie ever made has finally made it. The Room is going mainstream for one night all thanks to The Disaster Artist, the movie about how the worst movie ever made was, well, made.
The Hollywood Reporter broke the news on Tuesday, writing that the cinema events company Fathom will release The Room in about 600 theaters across the U.S. for a one-day screening at 8 p.m. local time on January 10. And if that isn't great enough, each screening will feature a brand new trailer for The Room stars Tommy Wiseau and Greg Sestero's upcoming film, Best F(r)iends, to mark the occasion.
This is a huge step up for the Wiseau-directed The Room considering that it only played in two theaters in Los Angeles when it first premiered in 2003, and he paid for it to be there.
While The Room achieved cult status for being atrociously, enjoyably bad, the film's far more successful and put-together brother, The Disaster Artist, has been lauded as a genuinely good movie. The James Franco-directed comedy is well-reviewed and wildly popular, and it's fair to assume that it's due to The Disaster Artist's popularity that The Room is getting another, official shot at the big screen.
"It's really great because it's going to tackle the other areas where people aren't aware of the room still," Wiseau told THR. "I've never called it a cult phenomenon, or whatever they call it. I call it a free expression, that's what The Room represents. I encourage people to express themselves in the screenings. A ton of people ask me, 'Why do you encourage that?' I say, 'Why not?' What I wanted was to give them a smile and it's their choice if they want to express themselves."
Inverse reviewed The Disaster Artist when it first premiered in theaters, writing:
For fans of The Room, The Disaster Artist peels back the curtain and shows the crazy, mostly-true story behind this beloved piece of unexpected comedy. For newbies, though, it's a fascinating film about a strange, abusive man who accidentally created a weird sort of art.
Anyone who's watched The Room knows just how fantastically weird it is; the acting is practically insufferable, the plot is nonexistent, and the direction is plain horrible — everything is laughably bad, and that's what's made it such an iconic film. The Disaster Artist was looking to show the love, hubris, and madness that went into making The Room in the first place. It seems that's exactly what the film achieved.
You can purchase tickets for the January 10 screening of The Room and find a location here.