Why People Love 'The Disaster Artist,' A Good Movie About a Very Bad Movie
There are two main reasons people love 'The Disaster Artist.'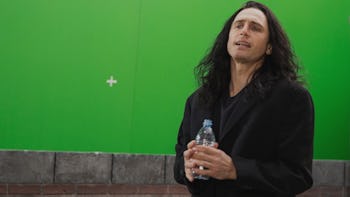 A24
Tommy Wiseau's magnum opus, The Room, is famous for being the worst film ever made. But the movie about just how this bad movie got made, The Disaster Artist, will go down in history as a truly great movie — no joke.
On Thursday, Rotten Tomatoes, the movie review site that rates films by how "fresh" or "rotten" they are, announced that the James Franco-directed The Disaster Artist is "certified fresh" with a 94 percent positive review rating. Meanwhile, its predecessor and inspiration The Room still sits at a dismal, rotten 26 percent rating.
People, both reviewers and casual viewers, genuinely like The Disaster Artist, and not in the same way people "like" The Room. When people "like" The Room, it generally means they have an appreciation for its place in the cultural zeitgeist, that they love it while still acknowledging what a terrible movie it is. Because it is a truly terrible movie. So what makes The Disaster Artist so much better? What do people love about it?
It turns out there are two main reasons why people love The Disaster Artist. And what you like about probably has to do with how much you "like" The Room.
Respecting the OG content
First of all, The Disaster Artist acknowledges that its inspiration is horrible while still honoring Wiseau's wacky wonder and the impact The Room has had on the world since it premiered in 2003. Hating on The Room is kind of comparable to hating a three-legged rescue dog — you're gonna get yelled at by a lot of people online.
The Disaster Artist has been termed "alarmingly factual," an "emotionally engaging tribute to friendship," and "delightfully offbeat."
Slate wrote that "The Disaster Artist is part buddy movie, part show-business fable, and part behind-the-scenes DVD featurette."
The Disaster Artist knows how bad The Room is, but it very clearly loves the film and its creator, Wiseau. When The Disaster Artist was announced, The Room fans wrung their hands over the idea that it would disrespect the original content. Luckily for them, that's not what happened.
The Franco Brothers
While The Room fans largely adored The Disaster Artist for its love of Wiseau's work, critics couldn't get enough of the Franco brothers.
Love them or hate them, James and Dave Franco have integrated themselves into Hollywood as the "acceptably weird art bros." Perhaps it was James's role in the 2016 comedy Why Him? alongside Bryan Cranston that defines James Franco — a polarizing figure — and the view people have of him best; an individual is often going to have a hard time understanding the appeal, but there's just something special there that keeps drawing in the masses.
In that way, James Franco is much like The Room itself; you don't know what the fuck is going on, but you kind of like it. This quality made him kind of perfect to direct and star in The Disaster Artist.
The "self-styled polymath" that is James stars alongside his younger brother, Dave, who's probably best known as the sensitive frat boy in Neighbors (also a Franco-Seth Rogen special). While Dave's shadow doesn't yet reach as far as his brother's — as most of Dave's more prominent roles have been comedic in nature (e.g., Neighbors, 21 Jump Street) — he still delivers in The Disaster Artist. Dave's role is that of the far more straightlaced Greg Sestero, Wiseau's best friend and co-author of the novel that inspired Franco's film, The Disaster Artist: My Life Inside The Room, the Greatest Bad Movie Ever Made.
"[James] Franco has not just made a really sharp, funny movie about movie making," NPR says of The Disaster Artist. "He's also made a layered and intimate portrait of a friendship with his own brother, Dave Franco."
Meanwhile Empire writes:
Wiseau (played here by James Franco, who also directs) is a gift of a character. Petulant, unpredictable, with the wardrobe of a garish pirate and the accent of an Eastern European with a frog in his throat, Franco's Wiseau is a comedy masterclass in both understatement and overstatement, summoning a belly laugh from an over-the-top dramatic reading of Shakespeare just as easily as a quiet guttural "yah".
The Atlantic said, "James Franco is magnetic in the role, so committed to precisely replicating Wiseau's unique presence, that you understand why so many people went along for the ride with him."
"The 39-year-old Franco, who has now directed some 18 movies, has long been drawn to all things meta, and, on that score, "The Disaster Artist" is his piece de resistance," the Associated Press wrote. "There's something joyful about the Franco brothers playing a fun-house mirror version of their own Hollywood arrival, and the film's best scenes are with Rogen's production manager, aghast at Tommy's incompetence."
All of this is to say that, no matter who you are or what your experience is with The Room, you probably liked it for all its odd charms and "offbeat" characters. And now, this very good movie about a very bad movie is considered an awards season contender. Who'd have thought?