Marvel's New Editor Apologizes for Pretending to be Japanese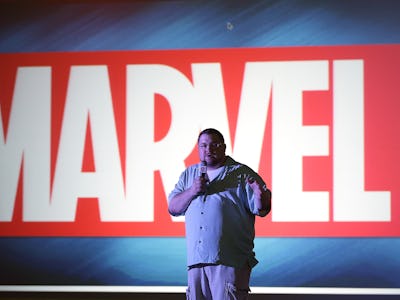 Getty Images / Suhaimi Abdullah
Marvel's new editor-in-chief, C.B. Cebulski, has apologized for adopting a fictional Japanese identity "Akira Yoshida" while freelancing for Marvel and Dark Horse during his tenure as an official Marvel staffer.
In a feature interview with The Atlantic, Cebulski, who took over for previous editor-in-chief Axel Alonso, gave a full statement regarding the controversy first reported by Bleeding Cool in November. "I'm truly sorry for the pain, anger, and disappointment I caused over my poor choice of pseudonym. That was never my intention," Cebulski wrote. He continued:
"Throughout my career in anime, manga, and comics, I've made it a point to listen and learn from my mistakes, which is exactly what I've been trying to do with this misstep. Building honest relationships with creators has always been important to me, and I've continued to do that in my new position. I've spoken with talent close to this issue, and have had candid and productive conversations about how we can improve the industry and build better stories, while being mindful of the voices behind them. My passion has always been about bringing the best talent from across the world to work on the best stories in the world, and I'm hopeful that fans and creators alike will join us in that continued mission."
As Bleeding Cool reported last month, in the mid-2000s, Cebulski adopted the pseudonym Akira Yoshida to sidestep Marvel policy that forbid staffers, such as Cebulski (then an associate editor), to freelance write comics. Under the fake identity, Cebulski was able to write Marvel titles like Thor: Son of Asgard, Wolverine: Soultaker, and Elektra: The Hand, as well as Hellboy comics for Dark Horse. Almost all "Yoshida" comics dealt with Orientlist tropes such as ninjas, yakuza, and characters concerned about "honor."
At the time, Marvel executives were reportedly impressed that a foreign talent like Yoshida had a strong grasp of American-style comics narratives. Cebulski even gave interviews as Yoshida, such as this one from 2005 to Comic Book Resources, where Cebulski characterized Yoshida as a Japanese manga talent who loved American comics, and even learned English from them.
By itself, adopting an alternate identity isn't unheard of in publishing. Even in comics, Stan Lieber and Jacob Kurtzberg used the Anglicized "Stan Lee" and "Jack Kirby." But what makes Cebulski's issue thorny was (and is) that Marvel, and most American comics, still struggle with hiring talents of color. Though there are notable examples of Asian and Asian-American comic book talents — Korean-American Jim Lee rose to fame as a best-selling X-Men writer/artist in the '90s and now serves as co-publisher of DC — the industry remains overwhelmingly white and male. And regardless of race and gender, it is notoriously difficult to break into.
Whether or not Cebulski's decades-old actions are actually offensive, and there's a credible case to be made that they are, his promotion is plain bad optics for a company still recovering from a full year of controversies. When Bleeding Cool's story broke, it was less than a month after Marvel canceled its crossover with military manufacturer Northrop Grumman, and several months after Marvel flirted with Nazi imagery before, during, and after white nationalists violently demonstrated in places like Charlottesville.
When the Cebulski/Yoshida story surfaced, Asian-American talents had a divisive response. Some pointed out Cebulski's active participation in hiring diverse talents, such as colorist Christina Strain (Marvel's Runaways), while Larry Hama plainly wasn't "offended." Meanwhile, Filipino-American artist/writer Joshua Luna (Ultra) told HuffPost: "This 'Akira Yoshida' story sends yet another message of Asian culture being desired, but not actual Asian people." When the Cebulski story surfaced, As-Am voices on Twitter began the hashtag #ActualAsianComicWriters to promote authentic Asian comic book authors.
As of now, C.B. Cebulski is now serving as Marvel's Editor-in-Chief. With Cebulski's reputation for hiring diverse talents, perhaps a more robust, diverse roster of stories and storytellers await Marvel's future that wasn't available when Cebulski had Wolverine fight ninjas.