What's The Deal with WeWork's Mysterious Area 51-Themed Startup Program?
WeWork's new project has us raising our eyebrows.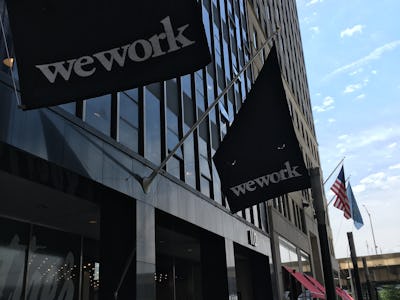 Flickr / kennejima
If you ask anyone what they think is inside of Area 51, they'd tell you some high-tech jets and maybe aliens. (As a reminder, it's never aliens, even if certain Nevada billionaires might disagree.) But if you ask WeWork, they'd tell you the new Area 51 is full of startups.
The real-estate company that provides shared workspaces for startups has recently began recruiting for a cryptic program they're calling Area 51 Paradise Ranch, or A51 for short. The company says this "is not an incubator program," but rather "a collective of exceptional founders working to change humanity in innovative and disruptive ways." Which, yes, sounds a lot like a startup incubator, but there's not much to go on yet as to how this could in fact be different from similar setups.
Wired reported Monday that the New York City-based company has recently started taking applications for A51. The application page is even vaguer than WeWork describes the project to be. All you have to do is type in your name, email, number, and startup name, which can be a working title if you haven't even settled on one yet.
Of course just applying won't guarantee you'll get in. WeWork says they will vet all of the companies that apply.
The few who will be selected will take part in a "beta" program that will be hosted at WeWork's office space in Manhattan. They will also gain access to some form of "mentorship" in exchange for a monthly fee of $350, with no equity.
While we're not entirely sure what the real-estate company is actually up to, this new project seems pretty similar to WeWork Labs. A gathering "early-stage startups" that are provided "tool, community, and connections they need to go from a prototype to a functional business."
Though it might be tempting to just write off A51 as another iteration of WeWork Labs, the company's recent activities lead us to believe that they have something in store for 2018.
Just last month WeWork acquired the New York City-based community platform Meetup, for $20 billion. This came only a month after they bought out the coding bootcamp Flatiron School. It's hard not to imagine that this acquisition spree and mysterious A51 program aren't signs of something bigger to come.
Meetup was originally meant to bring together people with similar hobbies and interests for IRL meetings. So WeWork might try to utilize this initial idea to complement their office-lending business model.
It's unclear if WeWork is in the process of assembling some kind of startup Justice League or if this is just another incubator program, one thing's for sure: They're out to turn heads.