'The OA: Part II': Brit Marling Revealed a Few Episode Titles for Season 2
Does that mean the show will go to San Francisco?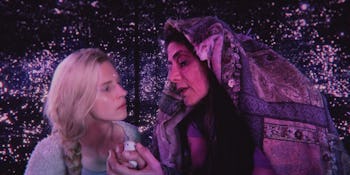 Netflix
Better start stretching so you're limber for those cosmically-charged interdimensional dance routines, because the official word on The OA's second season is that production begins in a few short weeks. Better yet, the series co-creator, co-producer, and star Brit Marling just revealed a few chapter titles for upcoming episodes.
Fans are, predictably, freaking out with nervous excitement at another bizarre season of weirdness, dancing, and cosmically magical excitement.
Brit Marling created The OA alongside director Zal Batmanglij, and on the one-year anniversary of the first season's release on December 16, 2016, she officially announced via Twitter that the eight scripts for Season 2 were complete and that filming on "Part II" would begin in January 2018.
But fanned out over the table in front of the provided picture of Marling were eight print-outs of the new scripts. Though most of the cover photos and titles are obscured, "Chapter 1" is called "Angel of Death" with a picture featuring the Golden Gate Bridge — which hints that Season 2 might go to San Francisco.
Check out Marling's tweet right here:
Beyond that, we also know that "Chapter 4" is called "Syzygy." The term has functions in mathematics and biology, but the all-too obvious reference here is in astronomy. Within astronomy, "syzygy" references when three celestial bodies are in alignment, like with a lunar or solar eclipse, but its Greek origins loosely mean "yoked together." Both these definitions could easily apply to The OA.
"Chapter 5" also looks like it might end with the word "engineer" — but who knows. Marling is apparently "excited and terrified by the road map" of the eight stories presented.
Now that fans know that a second season is officially coming, they are so excited they could dance:
For many, the wait is almost too long:
The excitement is positively hyperbolic:
But it's definitely palpable:
The OA: Part II has no release date in sight, but filming is expected to begin in January 2018.