This Is The Last Place on the Internet to Get Apple AirPods Before Christmas
Just don't lose them by New Year's.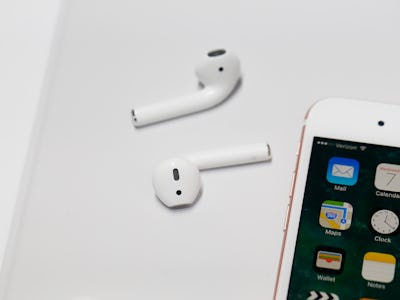 Getty Images / Stephen Lam
Ah, AirPods: the choice audio device of commuting dads everywhere.
Apple's connective earphones, which retail for a whopping $159, have become popular since their release back 2016. So popular, in fact, that they've practically sold out everywhere this holiday season.
If you're looking to gift loved ones AirPods this Christmas, skip the Apple Store lines, considering they're back-ordered at their home retailer until January 5.
Even iPhone carriers like Verizon have their AirPods stock on backorder until after the New Year. And if you'd like to try your luck at the ever-resourceful Amazon marketplace, bonne chance — even AirPods knockoffs seem to be backordered.
After an exhaustive web search, we've concluded that there is only one place where AirPods are still available and ready to ship before Christmas: The AT&T Store.
At this point, you may be wondering why Apple's $159 smart headphones have become a popular companion to both iOS devices and Macs everywhere. The headphones are sold separately, but owners overwhelmingly say they're worth the added cost.
This is because, aside from their audio quality, AirPods offer Apple users several features not available with most high-end headphones. These include fast connectivity to devices, 24-hour battery life, that nifty charging case, Siri integration and seamless switching between devices.
And despite their quirky aesthetic — which includes that awkward wireless look — they've become a popular a favorite among runners looking for stability and comfort during long runs.
If you're still looking to grab a pair of AirPods for a gift, AT&T's express shipping is your best option to get them before Christmas arrives.