Mark Hamill Played Two Characters in 'The Last Jedi'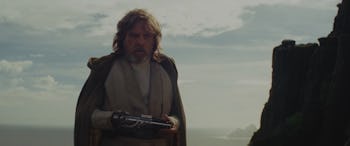 YouTube.com/Star Wars
Mark Hamill returned as Luke Skywalker in Star Wars: The Last Jedi, but Old Man Luke wasn't the only role Hamill had in the film.
At a post-screening Q&A held by Entertainment Weekly and attended by various members of the cast and crew, including Hamill and director Rian Johnson, Hamill revealed he had a secondary role in the movie as one of the aliens on the casino planet Canto Bight. For the role, Hamill used his well-known voice talents — he famously played the Joker in the Emmy-winning Batman: The Animated Series in the early '90s and '00s — to bring "Dobbu Scay" to life.
"I said I'd love to do a CGI thing, and [director Rian Johnson] said sure," Hamill told the press. "And I got to go to the set of the casino and see in detail 150 extras in jaw-dropping costumes." (Costume designer Mark Kaplan later corrected Hamill, saying there were at least 200 costumes.)
But who is Dobbu Scay? Nobody identified just which of the many CGI aliens Dobbu was during the Q&A, which means fans will have to watch and listen closely when the movie hits Blu-ray and DVD. But, fans can definitely rule out the alien with an uncanny southern American accent who rats out Finn and Rose's illegally parked ship — the person behind that role is Joseph Gordon-Levitt, the star of Johnson's previous movies Brick and Looper. (Want another Easter egg? Levitt's character, "Slowen-Lo," is named after the Beastie Boys song "Slow and Low" from 1986, following in the footsteps of The Force Awakens's tribute to the band)
Also, if you're wondering if "Dobbu Scay" means anything significant, it kind of does. It's an anagram for The Last Jedi editor Bob Duscay, who was also at the Q&A and slyly hinted that he was the source of inspiration. Johnson said "Dobbu Scay" is the work of Pablo Hidalgo of Lucasfilm "having some fun."
Joked Hamill: "I thought he just shook up some Scrabble tiles and threw them on a table … Let's come up with a name goofier than Dooku!"
Star Wars: The Last Jedi is in theaters now.