The 26 Best Bitcoin Memes of 2017, from Funny to Painfully Relatable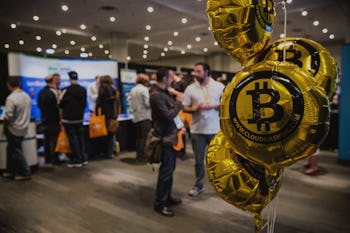 Getty Images / Andrew Burton
Bitcoin is making waves. As the cryptocurrency closes in on the $20,000 mark, more people are considering a jump into the community. It's a vibrant arena, with a number of forums and groups set up for sharing tips, explaining the basics to newbies, or even sharing some good Bitcoin memes.
Newcomers are getting into the market for a wide variety of reasons You might be interested because of the blockchain —the underlying technology that securely logs transactions between participants — or because you're interested in charity ventures like the Pineapple Fund. Perhaps you're simply looking to "hodl" — a term for buying Bitcoin and holding onto it with the expectation that the price will rise, born of a typo in an old forum post.
It's not just Bitcoin, either — Ethereum and Litecoin, two "altcoins," have also surged in value as interest in the wider cryptocurrency market spills out into alternative means.
Here are the 26 best memes from around the cryptocurrency communities.
The Pressure
"Sir"
Small Wins
Playing the Crypto Markets
Alchemy
Future is Here
"Wanna Hang Out?"
"No Neo…"
Getting In Late
When Someone Mentions Fiat Currency
Working Hard
How it Feels
Reaching New Highs
Getting Friends Involved
In the Classroom
Getting the Round In
Buy the Dip
Holding Onto Your Investment
Getting in on that Litecoin
Time to Buy!
Off the Charts
Holding Like a Pro
You Know it Makes Sense
Getting People On Board
Finally Investing
Markets Are Hard