'Logan' Director Is Worried About Disney-Fox Merger
What's in store for a Disney-fied X-Men?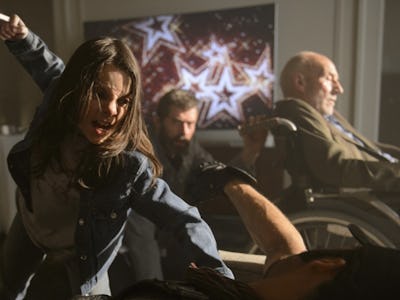 Disney just bought most of 21st Century Fox for $52.4 billion, a deal that'll have massive effects throughout the entertainment industry, including the beloved X-Men franchise.
This has both insiders and fans worried. Some wonder if a proposed X-23 spinoff will actually happen.
One of the people that's worried is James Mangold, whose May 2017 X-Man movie, Logan, was both more violent and darker than the standard comic book movie tropes.
But he's not worried for the reasons that you'd expect – namely, the future of the franchise. After a media publication mistakenly said so, Mangold took to Twitter to clarify:
"Guys, I'm not even slightly worried about the future of X-Men movies," he said. "There's many talented folks to make these. I am worried about a further scarcity of films that aren't comic adaptations and sequels. I'm worried about the ever increasing scarcity of original theatrical films."
This is not the first time that Mangold has expressed this sentiment. In an interview with Rolling Stone in March, Mangold asked: "What's this pressure to [do] a movie that can be cut into all the other movies and makes a nine-hour, never-ending universe movie? I don't think fans get served."
He said that making an original movie that avoided "some of the tropes of comic book movies in general" was one of his priorities in making Logan. "Instead of adapting myself to the aesthetics and tropes of the genre, I said, "What if in this one we just take Logan and drop him into what would be another movie of mine and …"
Disney's acquisition of Fox gives it control over a number of highly popular (and profitable!) franchises, including the entire Marvel Comics Universe, Star Wars, and now, X-Men as well. This is in addition to the original films that it puts out through Pixar and Disney Animation Studios.
For worried fans, Disney's 2012 acquisition of LucasFilm and the Star Wars franchise, might present a hopeful sign. Star Wars: The Last Jedi, the third Disney-Lucasfilm movie, opened this weekend to positive reviews – including 93% approval rating on Rotten Tomatoes.
But whether the Disney-Fox merger will prove Mangold's fears about the lack of original movie-making remains to be seen.