Snap Releases An AR Tool So You Can Make Your Own Dancing Hot Dog
Breakdancing sausages for everyone.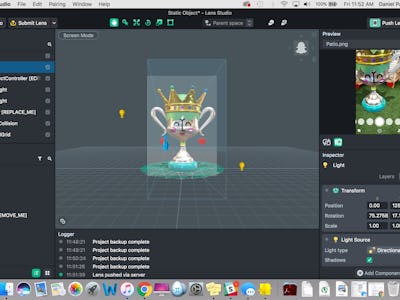 Getty Images / Carl Court
Earlier this year, Snap blessed the world by creating its viral dancing hotdog filter. Now they're giving users the power to create their own version of this breakdancing sausage by giving them access to augmented reality.
On Thursday the social media platform launched Lens Studio, a desktop program that lets you design your very own AR filters for Snapchat. This builds on comments last month from company's CEO Evan Spiegel, who seemed to hint at the idea of personalizing certain aspects of Snapchat last month during the announcement of the app's redesign.
Here's how it works:
Unlike Snapchat, Lens Studio is a desktop application that you can download from Snap's website. You won't be able to craft a little dancing friend on your phone or tablet, at least for now.
That it's on computers might seem a little strange, considering Snapchat is perhaps the platonic ideal of a phone-based app, but then playing around with augmented reality is the sort of thing you'll want a little extra screen size and processing power.
Once you've installed Lens to your computer you can pick the type of augmented reality filter you want to create. The program gives you a few preset options that you can tweak to your liking. The main distinction is if you want the filter to be moving, like the hot dog, or a static object.
From here things get a little complicated. Lens' interface is similar to many 3D graphics programs, like Maya 3D. If you aren't familiar with those types of tools, creating something totally new on Lens Studio will take some trial and error.
Of course, the program gives you some pre-made models that you can just send straight to your phone to test out. All you have to do is pair your Snapchat account with Lens Studio by scanning the barcode that pops up when you click the "Pair Device" button at the top right of the window. Once you've done that you'll have access to everything you make on Lens Studio on Snapchat.
This interface opens up a whole new world of some pretty sweet, user-generated filters. The best ones will probably come from users with 3D design backgrounds, but this could also serve as an inspiration to get would-be 3D artists to start practicing.
We would love to see the best user-created filters featured on Snap as perhaps a monthly competition. This would be a great way to inspire the average Snapchat users to pick up Lens Studio to see if they can get their design featured.
Additional reporting by Gabriela Barkho.