The 6 Best Comics of 2017, According to 6 Comic Book Writers
Writers from DC Comics and Valiant weigh in on their favorite reads from the past year.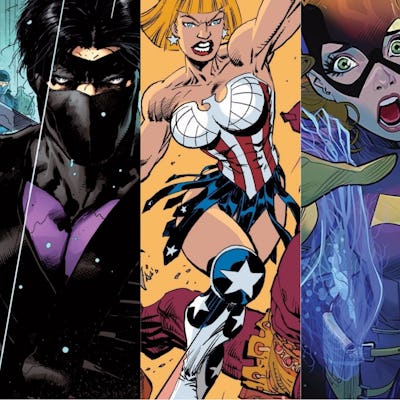 In 2017, comic books remained the most engaging artistic medium around. Television may be at its peak, and movies may attract the widest audience, but comics are still where it's at, a world of possibilities right there on your fingertips.
This time of year, websites tend to populate the search engine sphere with End of Year lists, engineered help curious readers get up to speed on books (and movies, and music, and TV shows, and episodes of TV shows…) that they missed the last twelve months. Which is awesome, because someone needs to beat the drum for books like Mister Miracle at, or Black Bolt at Marvel, and especially non-Big Two affairs like My Favorite Thing Is Monsters, Extremity, and Letters for Lucardo.
But while most websites create recommendation lists written by staff, we at Inverse asked: What did comic pros read and love in 2017? Below, Inverse has collected some of the industry's most prolific writers, who offered thoughts on what they think are the best comics of the year. Take it from them: They know what they're doing.
2017's Best Comic: The Flintstones Mark Russell and Steve Pugh
Earlier this year when The Flintstones Volume 1 came out, I wrote a love letter essay to it over at the DC Blog. What I love about this clever wonderful series is how it deconstructs and reconstructs the idea of civilization, culture and what it means to be human.
The Flintstones is set at a time when we are trying to invent culture, and we the reader are in on the joke because we are the result of these fictional characters' prehistoric efforts, but the true genius of The Flintstones is that it gently reminds us that we are constantly evolving and that civilization is something that we need to always be working on. I can't think of a better moment in history to have a book like this that comments so well on what we humans do well and do badly. The Flintstones is a true treasure. (P.S. I can't wait for Snagglepuss)
2017's Best Comic: Kaijumax by Zander Cannon
It's as if he combined the HBO prison drama Oz with Godzilla on Monster Island, and that may sound insane, but it's really brilliant stuff. Makes you feel for the monsters, giant robots, humans, and everyone else involved. It's on Volume 3 now and I just love it. It's worth the cover price for the monster-specific swear words alone.
Sam Humphries (writer, Nightwing, DC Comics)
2017's Best Comic: MIS(H)ADRA by Iasmin Omar Ata
It is a comic of beautiful purpose and razor-sharp vision.
Hope Larson (writer, Batgirl, DC Comics)
2017's Best Comic: Autobiographical comics from Kevin Budnik
No comics I read this year came close to the raw beauty of Kevin Budnik's autobiographical comics, which detail, nearly in real time, such struggles as his father's death and his long-distance relationship. This is some of the realest stuff out there, and it's not to be missed.
2017's Best Comic: The Dregs by Zac Thompson & Lonnie Nadler, Eric Zawadzki, Dee Cunniffe
The Dregs is an engaging freshman effort from creators that seem to have waited their whole life to tell this story of mid-size city noir, the place they call home and the dark, hungry underbelly they've long imagined underneath.
This is the greatest Vertigo title they never published, gripping, artisan, creative, and confident. Thompson, Nadler, Zawadzki and Cunniffe come across as seasoned, well-read creators wanting not only to pay tribute to the pulp detectives of their youth, discovered in the back of bookstores and dusty movie theaters, but also push those tropes and characters forward into the present with verve, horror, and pure, visceral, dread.
2017's Best Comic: Savage Dragon by Erik Larsen
I kind of hate "Best of the Year" lists, because as a working stiff my tastes are totally different than the average fan's. It's especially hard for me to be objective as I spent a whole lot of time reading every DC book I could so I can keep up with the universe, and there was a ton of good stuff in there.
But, I think the comic book I enjoyed the most this year has been Savage Dragon by Erik Larsen, from Image Comics. After 220 some issues, Erik put out some of the craziest issues in the series' 25-year history in 2017. He's thrown away the rule book…maybe even any semblance of good taste, to keep the book new, relevant and interesting for himself. It's a thing of beauty to behold.