Why Did Sony Ask a Focus Group Whether a Video Game Could Star a Woman?
Have they not played ... other games before?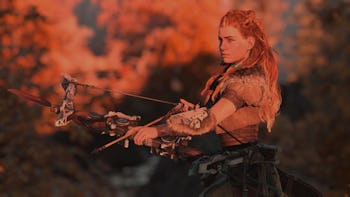 At this year's E3, Sony Computer Entertainment head Shuhei Yoshida was anxious about Horizon: Zero Dawn, a game Sony hopes to turn into its next big franchise. Was the concern over its size and expense? Over daring, unique sci-fi story? Yes, but also because gamers would be playing as a woman..
Deep sigh. Here we go again.
In Horizon: Zero Dawn, gamers assume the role of Aloy, a huntress who has some kind of spiritual bond with the mechanical beasts that populate the game's bombed-out, maybe-Earth. She's like a cross between Ygritte from Game of Thrones and Merida from Pixar's Brave. Archery is in vogue.
"She's a female lead character," Yoshida said in an interview with Polygon. "That has always been the vision by the team, but we had a discussion. Is it risky to do a female character?"
Sony made Heavenly Sword like seven years ago, to acclaim. What concerned Sony now? According to Polygon, Sony had "so many questions" about the protagonist that the company brought in a marketing team to focus-test the lead charac.
Even in an industry already populated with playable women characters like Samus, Jill Valentine, Lara Croft, and the beloved "FemShep" from Mass Effect, Sony thought they were gambling by not defaulting to a dude.
"We started to show it to many more people internally and they had questions about it," Yoshida said. "So we worked with our marketing groups to do this focus testing … We wanted to see how people would react to some of the things: open world RPG, the set up of machine versus primitive weapons and the female protagonist. All of those things."
Horizon: Zero Dawn was one of the new IPs — not a sequel, not a remake — that generated great buzz at E3. A female protagonist immediately distinguished it from other games where gun-happy white dudes generally take center stage. Still, it wasn't the only female-led game presented at this year's E3, or at dozens of previous E3 shows.
Yoshida has come around, and there's no reason other game studios can't follow suit. "Many teams are doing it now," he told Polygon. "I feel great that there is more diversity in the kind of worlds and kind of characters that we are making as an industry … I think we should continue to make efforts to have more females in studios on the development side and to get different perspectives." If gamers want more diverse characters in games, this is how they're going to get it: By supporting games that don't stick to the same ruts of the past, and by demanding that games cast characters who look more like the broad swaths of people who play them.