'Deadpool' Is Already Causing Problems for Disney After the Fox Merger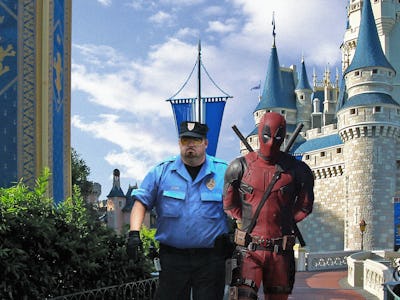 Twitter, Ryan Reynolds
Is Disney down to make an R-rated movie helmed by a decidedly non-family-friendly hero? That's the question so many Marvel fans are asking in the wake of Thursday's announcement that Disney has purchased 21st Century Fox's film and television assets for $52.4 billion.
Thanks to this unprecedented merger, Disney now owns the rights to an enormous swath of Marvel superheroes previously out of its reach, including the X-Men, the Fantastic Four, and, yes, your friendly neighborhood Deadpool.
Uh oh.
Deadpool actor Ryan Reynolds took to Twitter to celebrate the news on Thursday, tweeting out a photoshopped image of his costumed antihero being escorted out of one of Disney's theme parks by a security officer as Cinderella's Castle looms in the background. "Apparently you can't actually blow the Matterhorn," Reynolds wrote alongside the photo, referencing the Matterhorn Bobsleds roller coaster at Disneyland in Anaheim, California.
It's a great dick joke. And that's the problem. Disney doesn't really do dick jokes.
The Deadpool films — Deadpool (2016), Deadpool 2 (2018), and any other R-rated superhero films such as the slated X-Force spin-off — are a stark change from Disney's modus operandi. While Disney isn't afraid to get dark, it's never necessarily gotten outright dirty.
Now, before you start panicking, Disney CEO Bob Iger supposedly has a loose plan in place. Reportedly, Iger has said, "There may be an opportunity for an R-rated Marvel brand as long as we let audiences know what's coming."
Clearly, Disney is at least willing to give Deadpool a shot. And, honestly, why wouldn't it? Deadpool holds the record for the largest opening weekend for an R-rated movie in history, is the second highest-grossing R-rated movie ever (falling behind 2004's The Passion of the Christ) with a worldwide profit of over $360 million, and solidified itself as a cultural powerhouse from day one.
So, don't worry too much about Wade Wilson just yet.