New 'Deadpool 2' Poster Is a Work of Art, as Is Ryan Reynolds's Dick Joke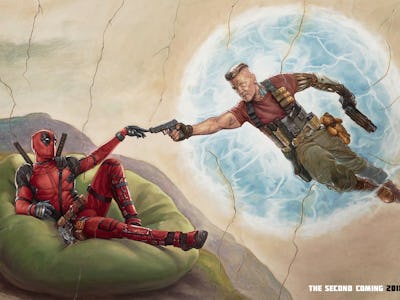 fox
News of the Disney/Fox merger has some fans worried if the typically family-friendly Disney will want to continue making R-rated superhero movies like Deadpool and Logan now that they're in control instead of Fox, but at the very least it's too late to stop Deadpool 2. Star Ryan Reynolds shared a new poster for the highly anticipated sequel, and he cracked a pretty good dick joke while he was at it, natch.
The poster is an illustrated parody of Michelangelo's famous painting The Creation of Adam, which usually depicts Adam and God just barely touching fingertips. In the poster, though, Deadpool is Adam, and instead of touching tips with Josh Brolin's Cable, he's sticking his finger in the barrel of the angry mutant's gun.
"Some might call this creation a masterpiece, but to me it's just well hung art to be shared with the world," Ryan wrote when he posted the photo to both his Twitter and Instagram on Thursday morning. (Get it? "Well hung" like a large penis? Classic Deadpool).
So far, Deadpool 2 has had a very artistic series of promotions. In November, the Merc With a Mouth taught fans how to paint in a Bob Ross parody, while earlier that month, his bizarre Good Housekeeping spread featured a parody of one of Norman Rockwell's illustrations from The Four Freedoms.
Deadpool 2, starring Reynolds as the Merc With a Mouth, Brolin as Cable, Zazie Beetz as Domino, and Brianna Hildebrand as Negasonic Teenage Warhead, is set for a June 1 release date.
One wonders what artist Deadpool will parody next? Might I suggest a Jackson Pollack spoof, only replace the famed artists signature drips and splatters of colorful paint with gore and entrails courtesy of Deadpool's weapons? This is a violent, R-rated movie, after all, Disney be damned.