'Deadpool 2' Official Synopsis Feels Like Smokescreen For the Real Plot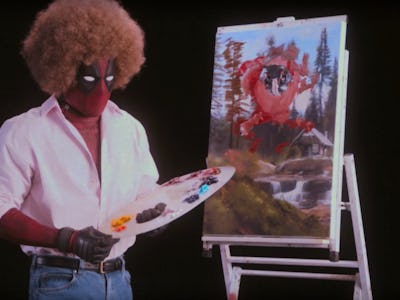 YouTube.com/20th Century Fox
In case you haven't had enough Deadpool 2 yet, what with that Bob Ross parody disguised as the first official trailer for the Merc with the Mouth's sequel, the official plot synopsis for Deadpool 2 also released by 20th Century Fox leaves so, so much to the imagination. Because even for Deadpool, it doesn't make any sense.
Here is the official Deadpool 2 plot synopsis, unedited and in full, below:
"After surviving a near fatal bovine attack, a disfigured cafeteria chef (Wade Wilson) struggles to fulfill his dream of becoming Mayberry's hottest bartender while also learning to cope with his lost sense of taste. Searching to regain his spice for life, as well as a flux capacitor, Wade must battle ninjas, the yakuza, and a pack of sexually aggressive canines, as he journeys around the world to discover the importance of family, friendship, and flavor - finding a new taste for adventure and earning the coveted coffee mug title of World's Best Lover."
That is the honest-to-God synopsis for Deadpool 2, which has folks on Twitter scratching their heads. While it's funny in an extremely juvenile sense, which is as succinct a summary one can give to Deadpool, it also can't be real. As in, that paragraph of ad libs is hiding what the real movie is about. It's a smokescreen, designed to hide as little of the plot of Deadpool 2 as possible.
The most glaring thing about the plot synopsis is that it has no mention of any character besides Wade Wilson. There's no mention of any new characters like Cable (Josh Brolin) or Domino (Zazzie Beetz), who are supposed to be extremely big deals. There's no mention of any returning favorites like Weasel (T.J. Miller) or Dopinder (Karan Sorin). It's all exclusively about Deadpool, in a paragraph written like Deadpool broke into the Fox publicity office and wrote it himself.
Furthermore, being a flagship new franchise, Deadpool is supposed to be at the center of Fox's new "X-Force" films series. As all things go in a cinematic universe, Deadpool 2 will probably be a standalone story with Easter eggs and post-credits scenes that set up the X-Force movie. But with so much nonsense in the way of the plot of Deadpool 2 (a flux capacitor? really?), perhaps the upcoming movie will be a much bigger deal for X-Force than one may think.
This is also pure speculation, but there can't be X-Force without Wolverine.
In Deadpool 2, Wade (Ryan Reynolds) probably is working a menial job to support Vanessa (Morena Baccarin), mentioned only in vague terms by the way, and Wade maybe will fight enemies as crazy as ninjas and dogs in heat. But no matter what, the point is that the synopsis you see above isn't meant to be taken seriously. It wouldn't be Deadpool otherwise.
Deadpool 2 will be released on June 1, 2018.