All the Best Horror Coming to Netflix in January 2018
January is spooky, y'all.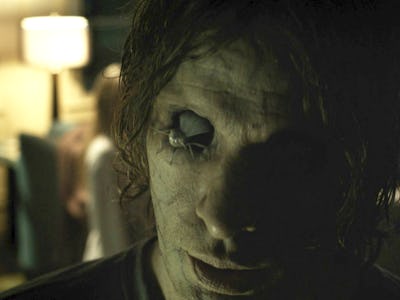 Intrepid Pictures
Kick off 2018 the right way — binge watching horror content on Netflix. Let's be real, there's no better way to keep yourself warm than by getting caught up in a good jump scare.
On Wednesday, Netflix announced its January lineup, which features a nice collection of new horror content to keep you busy (and a little spooked).
Before we get to the exciting stuff, though, about what you can look forward to in January, we have to have a moment of silence for all the horror leaving us behind. Netflix is pulling Gremlins, VHS, and the entire Saw franchise from its service in January, which means you'll have to find your tiny demon, outdated monster, and bloody trap thrills elsewhere once January hits.
Here's the best new horror content coming to Netflix in January, ranging from foreign television shows to a "true story" to the film that kicked off a multi-million dollar horror franchise.
Glacé, aka The Frozen Dead
We'll start with the title that's most likely unfamiliar to you. This French-language series, originally titled Glacé but translated to The Frozen Dead in English, is a serial killer murder mystery that takes place in the French Pyrenees.
Netflix started cranking up its foreign language assets with Dark, a Stranger Things-esque German sci-fi series that delves into a much darker place than Stranger Things has ever ventured. Glacé seems to be taking the same path, merging French noir horror with the kind of bloody serial killer story that'll keep American audiences captivated.
Available on Netflix: January 1
The Exorcism of Emily Rose
"Based on a true story" is a hit-or-miss sort of way to open any horror film. The Exorcism of Emily Rose is a bit different from the usual "true story," though, as it involves the true story of a lawyer who took on a negligence case against a Catholic priest.
The actual case Emily Rose is loosely based on revolved around a young German woman named Anneliese Michel. She also suffered from epileptic psychosis, and as Michel's condition worsened, her family became convinced she was possessed by demons. Two priests performed Catholic exorcism rites in the year before her death and the priests and Michel's parents were later found guilty of negligent homicide.
This is (kind of) that story.
Available on Netflix: January 1
The Vault
You've heard of the monster under the bed, but what about the monster in the bank vault? This admittedly odd horror film stars James Franco as a assistant bank manager who "thwarts" a couple of bank robbers by tricking them into opening a haunted vault. There's not much else to say that won't ruin the film, so we'll leave it at that.
Yes, it's ridiculous. Yes, it's freaky. No, it doesn't make a whole lot of sense. But, yes, you should absolutely watch it.
Available on Netflix: January 1
Before I Wake
Scary children are one of the simplest but most effective horror tropes out there. Falling under the all-too-rare "fantasy horror" umbrella, Before I Wake stars popular child prodigy Jacob Tremblay as Cody, an 8-year-old with the power to make his dreams a reality. The problem is when Cody gets upset; his dreams turn dark, and the "Canker Man" appears.
Equally heartwarming and disturbing, Before I Wake will leave you with the whiplash (but, like, in a fun way).
Available on Netflix: January 5
The Conjuring
It's hard to believe that the Conjuring franchise only started in 2013, but the Conjuring franchise only started in 2013. Following the supposedly true stories of Ed and Lorraine Warren, a demonologist and psychic medium, respectively, the Conjuring kicks off the franchise with one of the Warren's most famous cases of a haunting at a farmhouse in 1971.
The Conjuring throws together exorcism, ghosts, possessed children, and witches into the same pot, so there's kind of something for everyone.
Available on Netflix: January 8