Why a Recount in Alabama's Election is Probably Not Going to Happen
Doug Jones won Tuesday's Senate race.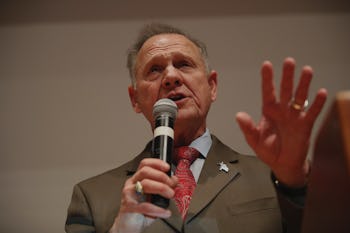 Getty Images / Joe Raedle
Roy Moore hinted at the possibility of a recount in Alabama's special election, held on Tuesday, just moments after the press called the race for Democratic opponent Doug Jones. Moore claimed that the close race could lead to a reconsideration of the result.
"Realize that when the vote is this close that it's not over," he said. "We also know that God is always in control."
At the stroke of midnight, Jones had 671,151 votes and a 49.9 percent share of the vote, while Moore had 650,436 votes and a 48.4 percent share. Moore's claim is based on the Alabama law that a result within 0.5 percent of the vote is enough to trigger an automatic recount. There are still military ballots that need to be counted.
There's a few reasons why a recount is almost certainly off the table. The first is that the final result probably won't meet the automatic threshold, as the Washington Post reports that as of May 2016 there is only around 8,700 Alabamans serving in the military. That's not enough to swing the election.
Another suggested tactic is Moore pays for the recount himself, a sum he would be refunded if he won. That's probably a bad idea. Alabama's secretary of state told CNN that a recent recount in a gubernatorial runoff won by just 160 votes "didn't change more than three or four votes" in the end.
It's not clear that Moore could even pay for his own recount, though. Legal scholar Rick Hasen, from the University of California, Irvine School of Law, said in a Tuesday blog post that Section 17-16-21, the law that governs how recounts are handled, only seems to cover state elections. Hasen speculates that this is because a recount would be handled Congress instead.
"He can ask for the U.S. Senate to conduct some kind of contest but good luck with that," Hasen said.
This is an interpretation that is backed up by the Alabama Law Institute:
There's also the question of what a recount would actually count. The state supreme court has allowed election officials to delete scanned electronic ballot records. State law only covers machine recounts of these digital images, placing a manual recount using the paper slips in murky water.
Moore doesn't seem to have any viable way forward to force a recount, meaning the result in Jones' favor will probably be certified somewhere between December 26 and January 3.