Netflix Announces 'Boss Baby' Series, 'She-Ra' Reboot, and More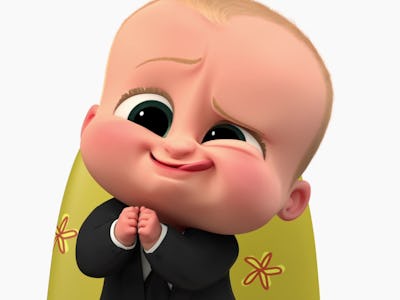 YouTube.com/DreamWorksTV
A bunch of new cartoons are coming to Netflix in 2018, including a full-blown reboot starring the popular '80s fantasy heroine She-Ra.
On Tuesday, Netflix and DreamWorks announced a partnership complete with a full slate of new shows that will premiere in 2018. Among the announcements, which includes a sequel to Boss Baby (yes, really), there is She-Ra, a reboot of 1985's She-Ra: Princess of Power, a spin-off to the mega-popular He-Man and the Masters of the Universe. The new She-Ra will be executive produced by Marvel writer and Lumberjanes creator Noelle Stevenson.
In the press release, Netflix and DreamWorks tease the new She-Ra will be a "modern" take on the '80s classic. "With Stevenson's unique voice at the helm, fans are in store for an epic and timely tale that celebrates female friendship and empowerment, lead by a warrior princess tailor made for today," reads the press release. It is unknown if She-Ra's twin brother, He-Man, will be in the show, or if She-Ra will set up a related Masters of the Universe reboot.
The other shows announced by Netflix and DreamWorks includes the third and final season of Guillermo del Toro's Trollhunters and its direct sequel, 3 Below, the second in del Toro's "Tales of Arcadia" trilogy.
The full list of new DreamWorks shows coming to Netflix are below.
She-Ra, a reboot of 1985's She-Ra: Princess of Power. The series follows in the footsteps of previous reboots of '80s cartoons Voltron Legendary Defender, also from DreamWorks, which reinterpreted the 1984 anime Voltron: Defender of the Universe.
DreamWorks Trolls: The Beat Goes On!, coming January 19, 2018, a sequel to the 2016 film Trolls.
The Boss Baby: Back in Business, another televised sequel to this year's unexpected hit Boss Baby. The series will continue Boss Baby and Tim's life together as the Boss Baby struggles to find "the work-life balance of a modern career baby."
Harvey Street Kids, in which three BFFs act as the self-appointed guardians to a magical street where the fun never ends.
The Epic Tales of Captain Underpants, an animated series based on the popular Captain Underpants books that everyone read growing up. A feature film Captain Underpants came out earlier this year, but it's unknown if the Netflix series will be a sequel or set in its own continuity separate from the established Captain Underpants Cinematic Universe.
Trollhunters Part 3, the third and final part to Guillermo del Toro's Trollhunters. The series will be followed by 3 Below, a new show set in the same universe as Trollhunters.
Aside from DreamWorks Trolls: The Beat Goes On! there are no official release dates for any of the aforementioned shows. All of them are expected to air sometime in 2018.