'The Walking Dead' Mid-Season Finale Hits Ratings Low Despite Huge Twist
7.9 million viewers is a lot, just not for this show.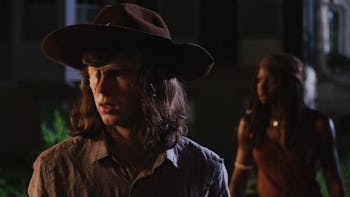 AMC
One of the most shocking turns presented by The Walking Dead mid-season finale had nothing to do with one of the main characters getting bitten by a zombie. Despite offering up a pretty epic finale to Season 8's first stretch — albeit one with lots of talking — the episode was the single worst fall finale the show's ever gotten among its prime target demographic.
Spoilers follow for The Walking Dead's mid-season finale "How Its Gotta Be."
By the end of "How Its Gotta Be," Carl Grimes revealed he had been bitten by a zombie at some point in his travels, presumably when he and Siddiq were attacked by a decent-sized group of zombies in the previous episode. It offered some perspective as to why Carl was acting perhaps a little more heroic than usual, and why the episode highlighted an extended version of his conversation with Rick from the season premiere about hope. Carl's impending death is going to have a huge impact on his father.
To be sure, this is a huge revelation for the show, especially because Carl's been around since the very beginning, so it's almost surprising that the ratings have gotten this bad.
Ratings-wise, the episode brought in a 3.36 among adults 18-49, a full 4 percent lower than the previous record-holder for worst back on November 27, 2011. To be fair, that Season 2 fall finale was still working to build up the show's viewership, so those numbers were pretty respectable for that time period.
To look at things another way, the "How Its Gotta Be" numbers were 34 percent worse than last year's fall finale, which was already facing a bit of a decline. Seemingly, the show hit its peak with the Season 6 finale that debuted the menacing Negan. Since then, ratings have been in steady decline.
Still, this year's mid-season finale still had about 7.9 million viewers on average, which is a pretty large number — just not for The Walking Dead.
The Walking Dead Season 8 continues on February 25, 2018.
Which of your favorite murderers killed the most "named characters" in Game of Thrones? Check out this video to find out.